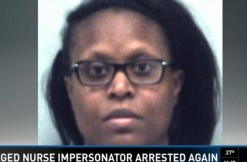 The woman who allegedly pretended to be a nurse to care for the late singer Bobbi Kristina Brown is in even more trouble.
Taiwo Sobamowo is facing seven new charges from authorities in Gwinnett County, GA. For example, she allegedly committed financial identity fraud, and since people apparently like sticking to basics, practicing nursing without a license.
She was already facing charges from a November 2015 arrest in North Carolina. She was accused of practicing nursing without a license while caring for Bobbi Kristina Brown, daughter of singers Whitney Houston and Bobby Brown. Bobbi Kristina passed away at Peachtree Christian Hospice, near Atlanta, GA, on July 26, 2015 after being in a coma for months:
Lucky for Sobamowo, investigators never indicated that her actions contributed to Bobbi Kristina's passing.
It's going to be a long process for this would-be nurse. She's stuck in a jurisdictional game of Twister since she also faces charges in Maryland for, yes, using another person's license to get jobs from 2010 to 2013. Even if she beats the charges in one state, she'll have the other cases to deal with.
[h/t NBC 11]
–
>> Follow Alberto Luperon on Twitter (@Alberto Luperon)
Have a tip we should know? [email protected]