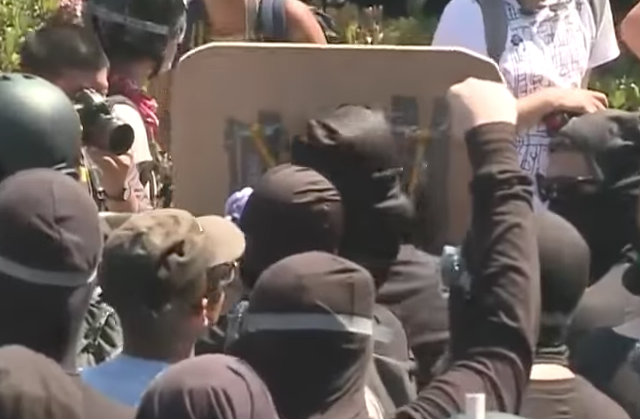 Since 2016, federal officials have been incredibly leery of the far-left militants known collectively as antifa–so much so that the Department of Homeland Security have classified their actions as"domestic terrorist violence," according to a new POLITICO report. The outlet spoke to current and former law enforcement officials about it, and reviewed confidential documents.
Federal authorities have been warning state and local officials since at least April 2016. According to a confidential joint intelligence assessment by the DHS and FBI, antifa figures attacked police, government institutions, as well as symbols of racism, social injustice, fascism, and capitalism. Things escalated after the November 2016 election, when they turned their attention to supporters of President-elect Donald Trump, usually those who were white supremacists and nationalists.
The tension started when Trump started running for office.
"It was in that period that we really became aware of them," a senior law enforcement official told POLITICO. "These antifa guys were showing up with weapons, shields and bike helmets and just beating the shit out of people. … They're using Molotov cocktails, they're starting fires, they're throwing bombs and smashing windows."
Brian Levin, a Criminal Justice Professor at California State University, San Bernardino, told the outlet that far-right groups and antifa have been bringing out the worst in each other.
"Both the racists and a segment of violent antifa counter-protestors are amped for battle in an escalating arms race, where police departments are outmaneuvered, resulting in increasingly violent dangerous confrontations," said Levin, a former NYPD cop. "It's an orchestrated dance. The rallies spill over into social media and then even more people show up at the next rally primed for violent confrontation."
This report comes only several weeks after a violent white supremacist rally in Charlottesville, Virginia, which was met with anti-racist counter protesters. On Sunday, several antifa were arrested attacking Trump supporters in Berkeley, California, leading Mayor Jesse Arreguin to call for law enforcement to label antifa as a gang.
[Screengrab via KPIX]
Have a tip we should know? [email protected]