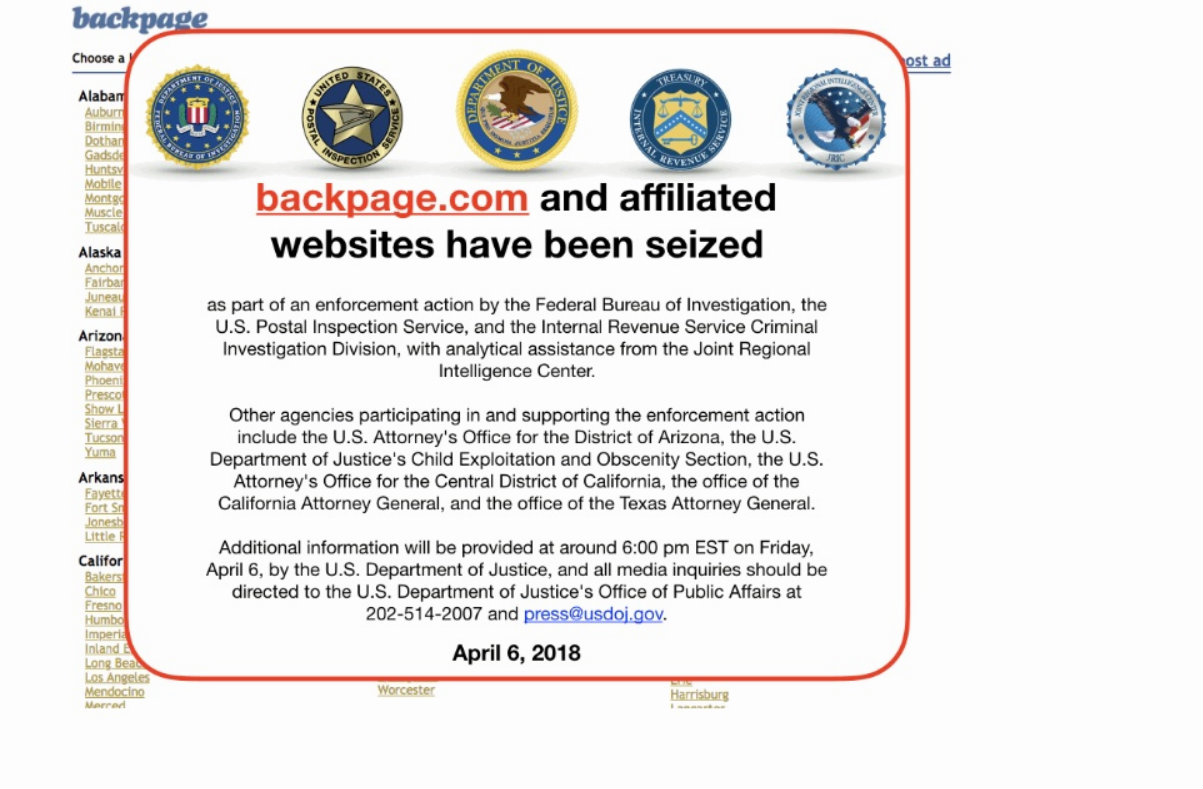 Go to the Backpage website as of Friday afternoon, and you'll see that the site is down. It features a statement showing that it and its affiliated websites have been seized by the federal authorities. This didn't provide much of an explanation, but promised a statement from the Department of Justice as of 6 p.m. EST. When Law&Crime reached out to the DOJ for confirmation Friday afternoon, a spokesperson declined to comment, but did say that a statement was scheduled to be released at 6 p.m.
They finally released a statement just after 9 p.m. on Friday night, but that explained nothing.
"The Court has ruled that the case remains sealed and we have nothing to report today," said the DOJ.
An attorney for Backpage did not immediately respond to a Law&Crime email request for comment. Authorities have been gunning for the website over prostitution ads posted on the site.
This seizure comes after Congress overwhelmingly passed a new federal law making it illegal for websites to host prostitution adds. Both Houses of Congress voted for H.R. 1865, 388 – 25 in the House, and 97 – 2 in the Senate, but there was some vocal opposition, saying that the law went too far.
Rep. Dana Rohrabacher (R-California 48th District) said in a statement last month that he voted against it because "it goes after websites that are public forums and requires them to police thousands or millions of posts on their sites for content that might involve any form of prostitution, regardless of whether it involves consensual (or even legal) adult behavior. This goes beyond current law, which already allows sites to be prosecuted or sued if they knowingly allow posts that promote sex trafficking."
The American Civil Liberties Union had backed a Senate amendment designed to soften the bill, and stop websites from over-moderating users over fear of liability, but that amendment was withdrawn.
Note: Updated with the statement from the DOJ.
[Image via Backpage]
Have a tip we should know? [email protected]