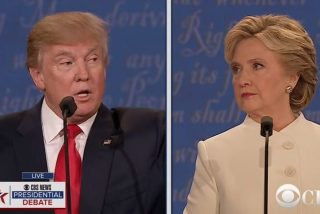 Towards the end of Thursday night's third and final Presidential debate, moderator Chris Wallace asked Donald Trump about the nine women who have recently come forward with sexual assault allegations against him. Trump said he believed the accusations were the result of planning by the Clinton campaign. He then addressed the implication made in an edited undercover video that a contractor working for the Clinton campaign worked to spark violence at Trump rallies.
"They're telling people to go out and start fist fights and start violence," Trump said, calling it "a criminal act."
But that's not exactly true. The tape that Trump referred to showed Scott Foval, National Field Director at Americans United for Change, an organization that contracted with Democracy Partners, a consulting group that worked with the Democratic National Committee. In the video, Foval appeared to describe strategies for sparking violence at Trump rallies that included wearing t-shirts and having "leading conversations" with people who seem to be "naturally psychotic." At no point in the video, which was pieced together to begin with, did Foval describe instructing anyone to be violent themselves, or to outright incite others to be violent. He only appeared to describe underhanded tactics that might lead to others flying off the handle. "Sometimes the crazies bite, and sometimes the crazies don't bite," Foval said.
Dirty politics? Oh yes. Illegal? Not really.
[Image via CBS screengrab]
Have a tip we should know? [email protected]