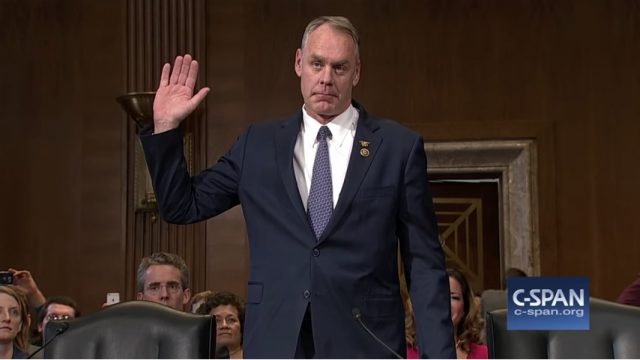 A purportedly non-partisan and nonprofit legal group has filed a lawsuit alleging the Department of the Interior violated a Freedom of Information Act ("FOIA") request over official travel records.
Filed just before the long holiday season began on November 21 in the U.S. District Court for the District of Columbia, Citizens for Responsibility and Ethics in Washington ("CREW") announced the lawsuit in a Twitter update posted earlier today.
The lawsuit is based on an emailed FOIA request filed on September 21, 2017. According to a blurb on CREW's website and the suit itself, the initial request asked for: "(1) copies of all records concerning authorization for and the costs of Interior Secretary Ryan Zinke's use of noncommercial aircraft for any official travel since his confirmation on March, 2017, and (2) copies of all records sufficient to show the amount of money budgeted for the Secretary's travel in 2016, 2017, and 2018."
The lawsuit elucidates CREW's reasoning for filing their FOIA request. It reads, in relevant part:
Interior Secretary Ryan Zinke…created a public stir when news broke that in June [2016] after speaking to a new hockey team owned by a political donor, he had taken a private charter flight from Las Vegas to his home state of Montana on a plane owned by oil and gas executives, at a cost exceeding $12,000. Secretary Zinke also flew on a non-commercial aircraft between two Caribbean islands, and on a bipartisan expedition to the Arctic Circle. And while traveling for official business, Secretary Zinke attended at least two additional political fundraisers, including one to a ski resort.
CREW's lawsuit continues:
When news of Secretary Zinke's frequent trips on private aircraft at taxpayer expense broke, he reportedly was unapologetic and called a suggestion that he had abused taxpayer resources "a little B.S." Nevertheless, the Interior Inspector General has launched an investigation into Secretary Zinke's travel. On November 15, 2017, the Office of Inspector General issued a "management advisory" stating that its "investigation has been delayed by absent, or incomplete documentation for several pertinent trips and a review process that failed to include proper documentation and accountability."
In their filing, CREW alleges the Department of the Interior improperly failed to adequately respond to the September FOIA request. Citing the FOIA statute–located at 5 U.S.C. § 552(a)(6)(B)–CREW specifically alleges that Zinke's Interior Department violated statutory time-limits imposed on administrative agencies under the FOIA laws.
In alleging the above violation, CREW is seeking declaratory relief that the Interior Department is in violation of the FOIA for failing to respond fully to the group's records request. CREW is also seeking injunctive relief ordering the Department of the Interior to process and release the requested records immediately and in their entirety.
[image via screengrab/CSPAN]
Follow Colin Kalmbacher on Twitter: @colinkalmbacher
Have a tip we should know? [email protected]