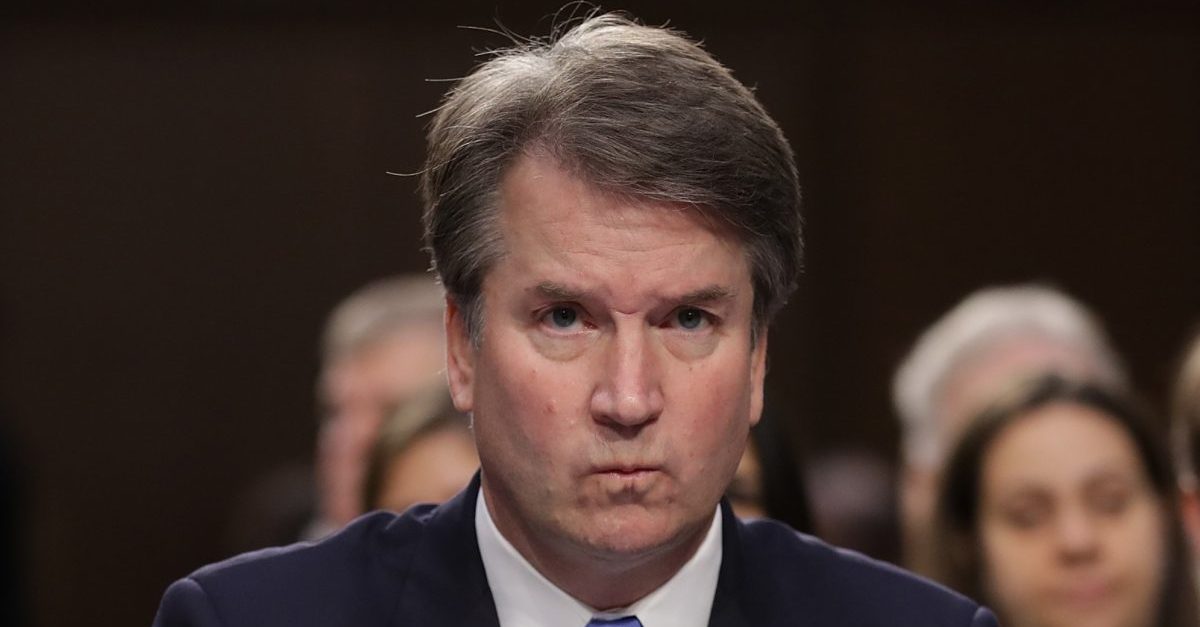 Quite a bit of ink–digital and analog–has been spilled discussing the White House's reluctance and/or refusal to have the FBI investigate Christine Blasey Ford's sexual assault allegation against Supreme Court nominee Brett Kavanaugh.
But does the FBI actually need the official go-ahead from President Donald Trump before initiating an investigation into Ford's allegations? According to Harvard Law Professor and constitutional scholar Laurence Tribe, not really.
In a series of Twitter updates posted Wednesday afternoon, Tribe described a roundabout method by which the FBI might be able to investigate the claims against Kavanaugh without any direction–or approval–from the Trump White House.
In a tweet sent at 2:16 p.m. Tribe noted:
The FBI clearly has jurisdiction, without any referral from the WH, to investigate the death threats, the hacking, and the harassment designed to prevent the alleged victim from appearing to testify before the US Senate. That would lead to investigating the alleged [attack] itself.
CNN legal analyst and former FBI special agent Asha Rangappa quickly took issue with Tribe's idea and said as much on Twitter. She wrote, "No it wouldn't. ?? The Criminal Division of the FBI is divided into squads based on the violations they work. If they come across evidence of another federal crime they will refer it to the appropriate squad. This allegation is not a federal crime."
Tribe shot back, clarifying his position on how this could all unfold. He argued, "But witness intimidation and computer hacking are federal crimes, aren't they — especially when undertaken to obstruct a Senate inquiry into the exercise of its federal advice and consent responsibilities. Investigating those crimes entails looking at the underlying events."
Rangappa did not directly respond to Tribe's second tweet or re-engage that particular argument with Tribe personally. She later asserted that the "appropriate entity" to investigate the allegations as a crime would be law enforcement agencies in Maryland–again, this was not a direct response to either Tribe or his argument.
In additional tweets to other Twitter users, however, Rangappa appeared to disagree with Tribe's theory on the merits. She noted, "[A]gents who investigate hacking and intrusion will investigate…hacking and intrusion. Not allegations of an attempted rape."
Tribe, for his part, continued tweeting about how the investigation could be initiated without the White House's blessing. About an hour after sending the first tweet, he wrote, "Any FBI investigation of efforts to deter an alleged sexual attack victim from testifying at an upcoming Senate hearing — a federal crime under 18 U.S.C. § 1512 — would have to look into the substance of the alleged attack. No WH request needed!"
The statute referenced by Tribe is the federal prohibition against witness tampering.
Tribe appears to be likening the deluge of death threats Professor Ford has received–as well as allegedly unauthorized intrusions into her email accounts–to a campaign of witness tampering. In other words, Tribe is saying that those death threats and hacks are intended to function like a form of pressure so as to keep Ford from testifying in front of the Senate Judiciary Committee.
If that's true, Tribe argues, the FBI would have the authority to look back a bit into the initial allegations against Kavanaugh which have reportedly prompted the attacks and the threats against Ford.
Even more than that, Tribe claims, by investigating the threats and attacks against Ford as potential witness tampering, the FBI would essentially be forced to investigate her original allegations against the Supreme Court nominee.
[image via Chip Somodevilla/Getty Images]
Follow Colin Kalmbacher on Twitter: @colinkalmbacher
Have a tip we should know? [email protected]