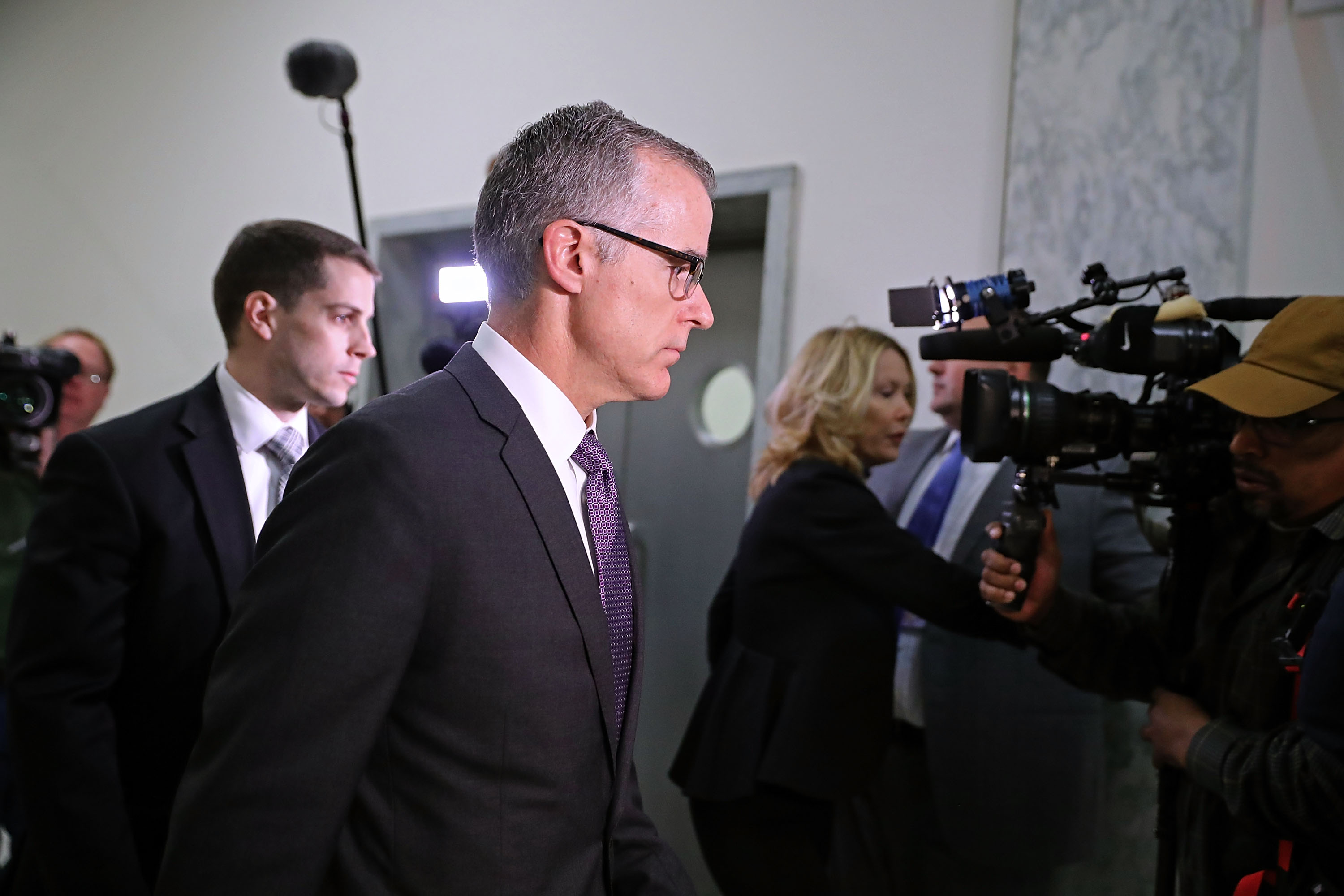 As pundits struggle to wrap their heads around why so many people just gifted Andrew McCabe (who is very financially sound) half a million dollars, one legal expert expert and constitutional law professor is apparently suggesting that the whole thing might have been an elaborate fraud.
George Washington University School of Law Professor Jonathan Turley posted a column on his blog today titled, "The Curious Case of The Andrew McCabe Legal Defense Fund." Also published in The Hill, Turley's column starts off with an interesting choice of contextual innuendo. He writes:
The Justice Department recently indicted four "fraudsters" in New York who raised more than $125,000 through a bogus "wounded warrior" charity to benefit themselves rather than to help veterans. It is a recurring problem for people who watch those constant commercials showing trembling dogs in wire cages or heartbreaking kids with cleft lips. Most charities fund legitimate, desperately needed programs but often are harmed by an unscrupulous few.
What does that have to do with Andrew McCabe's newly-mined GoFundMe fortune? Here, Turley plays it coy. He notes, "One recent campaign has attracted huge donations based on dubious claims – and it comes from within the Justice Department itself. The cause is Andrew McCabe, and both the timing and the pitch are strikingly premature."
Later, Turley writes, "In the end, it is not the creation of the GoFundMe page for McCabe that is concerning but its timing. Leading charity watchdogs demand full transparency and information so that "consumers or donors" are not "snookered." If the public learns that McCabe's wound was self-inflicted, or even criminal in character, do they get their money back? Not likely."
At issue is that McCabe embraced a GoFundMe on his behalf before even being referred for criminal investigation, "let alone charged with any crime." Turley then explains that, in theory, the inspector general could refer McCabe's case for possible criminal charges, but notes, "historically, Justice Department officials have avoided such referrals."
Because McCabe didn't wait for the release of the inspector general's report and because the GoFundMe campaign continuously shifted the fundraising goal upward, Turley says McCabe was more interested in presenting himself as a victim than in the actual necessity of any legal defense fund–and that the entire fundraising campaign was premised on the false narrative that McCabe was losing his pension. He writes:
It is not easy to transform oneself from a once-powerful public official terminated for cause to the equivalent of a late-night, mud-splattered stray seeking shelter. However, McCabe had the media, which portrayed him as a noble civil servant viciously and unfairly targeted by Trump operatives.
As mentioned in the blog post and column, McCabe stands accused of lying to investigators four times in total–including twice under oath. And, Turley says, those accusations shouldn't be discounted simply because McCabe was fired by Jeff Sessions. Turley argues that McCabe's firing was actually the result of career officials (i.e. apparently apolitical actors) within both the Justice Department and Office of the Inspector General recommending the personnel action.
Ultimately, however, Turley professes agnosticism as to whether McCabe might have pulled a fast one on his thousands of donors. He writes, "McCabe might still prove to be a legitimate cause or he might not be." Notably, on March 29, the day the fundraiser started, Sessions announced U.S. Attorney John Huber would look into potential abuses by McCabe and his former boss, James Comey.
[image via Chip Somodevilla/Getty Images]
Follow Colin Kalmbacher on Twitter: @colinkalmbacher
Have a tip we should know? [email protected]