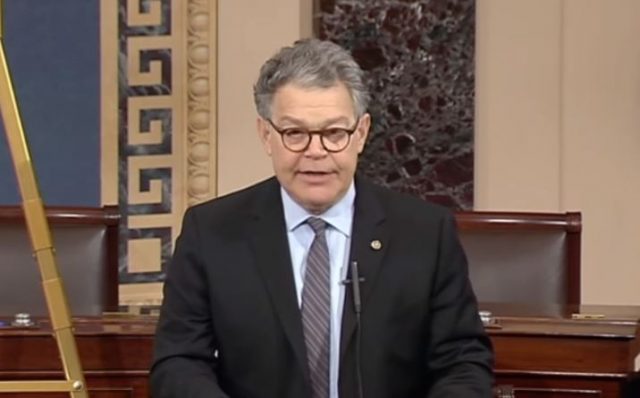 The latest allegations that Sen. Al Franken (D-Minnesota) kissed and groped Leeann Tweeden without her consent have shown that not only is sexual misconduct a problem currently facing politicians on both sides of the aisle, but that the backlash has not been restricted by party lines either. Hours after Franken was accused of improper behavior back in his comedy days, fellow Democrat Sen. Claire McCaskill of Missouri called him out.
Re Al Franken: I'm shocked and concerned. The behavior described is completely unacceptable. Comedy is no excuse for inappropriate conduct, and I believe there should be an ethics investigation.

— Claire McCaskill (@clairecmc) November 16, 2017
In a tweet posted Thursday afternoon, McCaskill called for an ethics investigation of Franken. "The behavior described is completely unacceptable," McCaskill said, adding, "Comedy is no excuse" for what he allegedly did.
Franken has released a statement saying he would cooperate with an investigation.
Tweeden wrote in a piece for KABC that in 2006, while the two were on tour visiting troops with the USO, Franken wrote a sketch that involved him kissing Tweeden. She said that he insisted on rehearsing the kiss, despite her saying no, and when she finally relented, he forcefully kissed her and shoved his tongue in her mouth. Tweeden said that after the trip, when pictures from the tour were distributed, she saw a photo of Franken appearing to grope her breasts while she was sleeping.
This comes in the wake of what's being called as the "Weinstein effect," where both men and women have come forward with stories of how people in power have sexually harassed or assaulted them, emboldened by the dozens who have spoken out against film producer Harvey Weinstein. On the Republican side, Alabama Senate hopeful Roy Moore has been accused of engaging in sexual acts with underage girls.
[Image via screengrab]
Have a tip we should know? [email protected]