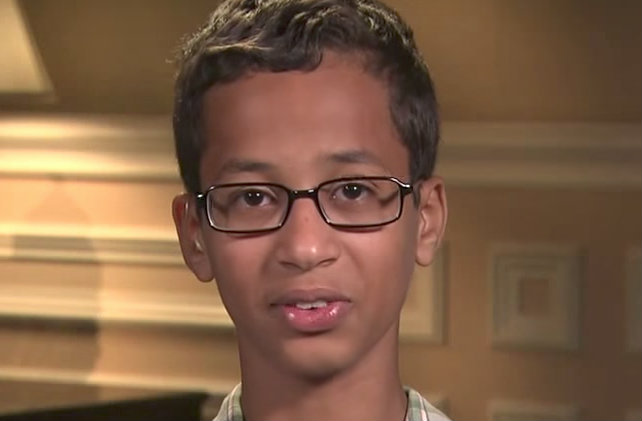 A discrimination lawsuit over the wrongful arrest of Ahmed Mohamed, known as "Clock Boy," was dismissed Thursday, but an amended complaint may be forthcoming. A federal judge ruled on behalf of defendants at the Irving Independent School District, principal Daniel Cummings, and the city of Irving, Texas.
Judge Sam Lindsay, of the U.S. District Court for the Northern District of Texas, thought there was insufficient evidence to prove racial and religious discrimination.
"First, other than wholesale conclusory and speculative statements, Plaintiff does not allege any facts from which this court can reasonably infer that any IISD employee intentionally discriminated against A.M. based on his race or religion," he wrote.
Mohamed Elhassan Mohamed had sued on behalf of his son Ahmed, a Muslim student at Irving MacArthur High School.
The arrest of then-14-year-old Ahmed was big news when it happened in September 2015. He brought a homemade clock to school to show a teacher, but he was cuffed and suspended from school for three days after it was mistaken for a bomb.
At the time, officials defended their actions by saying they did the best with what they knew at the time.
"With what they [cops] had at that time, they made the best decision that they had at that point in time," Irving Police Chief Larry Boyd said, claiming the investigation focused on whether Mohamed was trying to make a hoax explosive.
He was later released, and the case dropped.
Supporters on social media came to his defense, and he even got to meet then-President Barack Obama.
Cool clock, Ahmed. Want to bring it to the White House? We should inspire more kids like you to like science. It's what makes America great.

— President Obama (@POTUS44) September 16, 2015
Thursday's dismissal probably won't signal the end of this court battle, however. The judge gave plaintiffs a June 1 deadline for refiling an amended complaint, and their attorney Susan Hutchison told CBS News they will follow through. If so, multiple claims against the defendants will likely be resurrected.
In his ruling, Lindsay left the door open for them to re-litigate allegations of Fourteenth Amendment equal protection violations, Fourth Amendment violations, and plaintiff liability claims. They can't bring back a Title VI claim against the school district over religious discrimination, or a claim against the city based on alleged Fifth Amendment violations, however.
[Screengrab via ABC]
Have a tip we should know? [email protected]