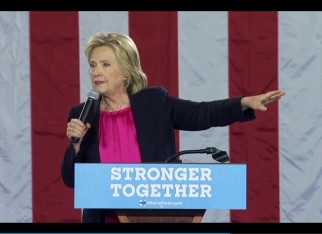 One of Hillary Clinton's favorite subjects to discuss this campaign season is the issue of gender pay equality.  She generally introduces the topic by reciting the story of two Kansas teenagers who were allegedly fired from their jobs at a pizza place for violating company policy by discussing their pay amongst each other.  Clinton is fond of saying it is "legal" for companies to fire employees for discussing how much they get paid.  However, according to a new report from major a fact-checking organization, Clinton's claim is simply not accurate.
After reciting the story of the two teens again on September 6 at rally in Tampa, FL, Clinton said, "And you know what? That's legal."  She then added, "If you find out about somebody else's salary even if you're doing exactly the same job, you can be retaliated against, including being fired, in most places."
This claim is a centerpiece of Clinton's argument that the current system allows employers to pay women less because nobody can talk to a co-worker about their pay without fear of getting fired.
Not so fast says Politifact, the fact-check organization that recently scored Clinton's claim as "mostly false."
"If we take a snapshot today, I don't think it is accurate," top employment lawyer David Fortney told the organization.  "The majority of employees do have that protection."
Where does the protection come from?
The National Labor Relations Act ("NLRA," enacted over 80-years-ago), for one, protects the right of most employees to engage in "concerted activity."  The National Labor Relations Board (NLRB) specifically recognizes "employees addressing their employer about improving their pay" as an example of protected concerted activity.  Just last year the NLRB found against T-Mobile, saying its company policy illegally restricted its employees rights to discuss salary and pay information.
For those employees not covered under the NLRA, such as government workers or airline and railway employees, protections can be found in other provisions in federal law.
For example, the Railway Labor Act provides railway workers with protections similar to those found under the NLRA.  Additionally, President Obama in 2014 signed an executive order that prohibits federal contractors from firing employees who discuss their salaries with co-workers. Title VII of the Civil Rights Act of 1964 provides additional protection for workers, making it illegal "to discriminate against any individual with respect to his compensation … because of such individual's race, color, religion, sex, or national origin…."
In addition to federal laws, 14 states plus Washington, D.C. provide additional pay transparency protections for workers employed in the state.
All in all, the fact-check organization found, this "patchwork" of laws makes it so "employers generally can't retaliate against an employee for engaging in those discussions."
[image via screengrab]
Have a tip we should know? [email protected]