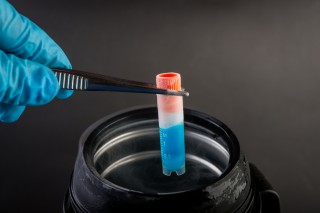 An Indiana fertility doctor is facing charges after allegedly lying about using his own sperm to inseminate his patients. FOX59 investigated Dr. Donald Cline after DNA tests showed that six people were conceived from sperm from the same donor. This didn't seem to mesh with Cline's claims to his patients that he would only use the same donor for up to three successful pregnancies. When an investigation was underway, Cline denied using his own sperm for the pregnancies, but he later admitted to his biological children that he had.
Cline had told the mothers of the now-grown children that he was using a doctor in training for the samples. That raised questions once they siblings learned they shared a father, since they were born up to eight years apart. It was unclear who this mystery person was, and why he would would still be in training — and available for the pregnancies — for so long.
Four of the siblings filed complaints with the state Attorney General, who conducted an investigation. According to court documents, Cline responded in January 2015 by saying, "I can emphatically say that at no time did I ever use my own sample for insemination," and "in fact, if this woman is saying this or writing this I believe she is guilt of slander and/or libel."
But court papers filed on Friday tell a different story. Six siblings allegedly met with Cline this past spring, when he allegedly admitted that he used his sperm any time there was no available donor. He supposedly claimed that he kept records of each of these cases in the late 1970s and early 80s, but that they had since been destroyed. According to the filing, Cline admitted to using his sperm as many as 50 times.
Dr. Cline, who retired in 2009, has been charged with two felony counts of obstruction of justice for allegedly making false statements to investigators.
[Image via Shutterstock]
Have a tip we should know? [email protected]