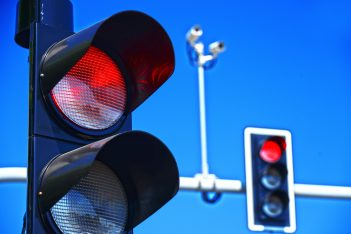 The former CEO of a traffic light enforcement camera company was sentenced on Wednesday to serve 14 months in prison as part of plea agreement reached with Department of Justice prosecutors and U.S. Attorney Benjamin C. Glassman of the Southern District of Ohio.
Karen L. Finley, 57, admitted to participating in a multi-year bribery and fraud scheme during her tenure as CEO of a red-light camera enforcement company from December 2005 to February 2013.   According to federal prosecutors, Finley's company made campaign contributions to elected public officials in Cincinnati and Columbus.  The contributions were allegedly made through a lobbyist named John Raphael, who prosecutors say Finley's company had retained as a consultant.
Here is how prosecutors further described the scheme:
Finley and others, including another executive of the company, agreed to provide the conduit campaign contributions through Raphael with the understanding that the elected public officials would assist the company in obtaining or retaining municipal contracts, including a red light camera enforcement contract with the city of Columbus. Finley also admitted that she and her co-conspirators concealed the true nature and source of the payments by Raphael and the company's payment of false invoices for "consulting services," which funds Raphael then provided to the campaigns of the elected public officials.
Finley pleaded guilty on June 19, 2015 to one count of conspiracy to commit federal programs bribery and honest services wire and mail fraud.  She also agreed to cooperate with the government's investigation and testified against Raphael.  On Wednesday, U.S. District Judge Michael H. Watson sentenced Finley to 14 months in prison.
Raphael was sentenced to serve 15 months in prison during a hearing in June 2016.  Prosectors say he had previously admitted his involvement in the scheme and pleaded guilty to one count of violating the Hobbs Act.
[image via monticello/shutterstock]
Have a tip we should know? [email protected]