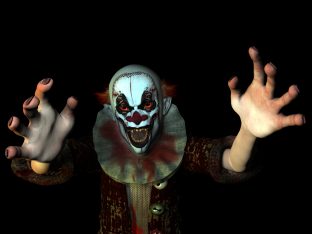 With the creepy clown sighting still sweeping across America, one county in Mississippi has decided to do something to calm the craze — or at least make clowns think twice before heading out in Kemper County.
The Kemper County, Mississippi Board of Supervisors unanimously approved an anti-clown ordinance during its regular meeting this past Monday night.  According to the Kemper County Messenger newspaper, the new ordinance was signed into law at 11:28 a.m. on Monday by County Board President Johnny Whitsett.
Starting this past Monday through at least November 1st in Kemper County, it shall be "unlawful for any person of any age to appear in public in Kemper County in a clown costume, clown mask or clown makeup."
Board attorney Bo Bailey told advised that the ordinance must have "teeth" in order for it to be effective, so the Board gave the Kemper County Sheriff's Office power to enforce the measure and violators face a fine of up to $150.
Board president Whitsett told the newspaper people in the county really believe the nationwide clown problem "has really gotten out of hand."  Whitsett, and other Board members also reportedly expressed concern during the meeting about what members of the public may do if they woke up to a clown in their own yard.
"It wouldn't be good," Whitsett said.
[image via shutterstock]
Have a tip we should know? [email protected]