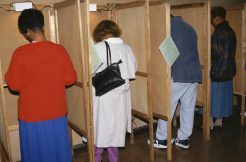 On Friday, federal authorities accused "Russia's senior-most officials" of directing attempts to hack U.S. institutions, political organizations, and people. And the targets may (or may not) include election-related systems.
"These thefts and disclosures are intended to interfere with the US election process," reads a joint statement from the Department of Homeland Security and the Office of the Director of national Intelligence on Election Security. "Such activity is not new to Moscow—the Russians have used similar tactics and techniques across Europe and Eurasia, for example, to influence public opinion there."
But how far the hacking attacks went is uncertain.
"Some states have also recently seen scanning and probing of their election-related systems, which in most cases originated from servers operated by a Russian company," reads the statement. "However, we are not now in a position to attribute this activity to the Russian Government."
Homeland Security and USIC officials claimed it would be hard to influence an election, in any case, since the system is so decentralized among state and local authorities. But the DHS still says they're working to boost protections, working with election officials to make sure nothing goes wrong.
No Russian official was singled out in the statement.
[image via Joseph Sohm and Shutterstock]
Update – October 7, 4:45 p.m.: A previous version of the article failed to add the U.S. government's suggested motivation for the Russian government's hacking attempts. This has been fixed.
–
Follow Alberto Luperon on Twitter (@Alberto Luperon)
Have a tip we should know? [email protected]