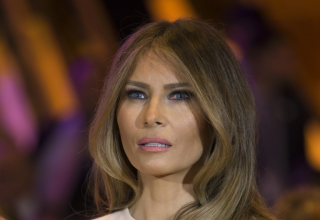 LawNewz.com has learned that First Lady Melania Trump has agreed to settle her defamation lawsuit filed against a Maryland blogger who published an article accusing her of being a high-end escort. The blogger has agreed to pay Trump a "substantial sum," according to a statement from Melania's attorney, Charles Harder. The blogger, Webster Tarpley, also agreed to issue an additional apology for the posts.
Last year, on Tarpley's website, Tarpley.net, he blogged about how there were reports that Melania suffered from a "breakdown" after accusations she plagiarized portions of her speech at the GOP Convention, according to court documents. He also blogged about "rumors" from other sources that Melania once worked as a high-end escort. Tarpley issued a retraction and apologized shortly after publishing the story, but Trump sued anyway. The Daily Mail published a similar story, which has since been retracted, but Melania sued them as well.
On Tuesday, Tarpley issued this statement:
"I posted an article on August 2, 2016 about Melania Trump that was replete with false and defamatory statements about her.  I had no legitimate factual basis to make these false statements and I fully retract them.  I acknowledge that these false statements were very harmful and hurtful to Mrs. Trump and her family, and therefore I sincerely apologize to Mrs. Trump, her son, her husband and her parents for making these false statements."
In a court filing to get the case dismissed, Tarpley accused Trump of acting in bad faith by filing the lawsuit, because she filed it after Tarpley "immediately" complied with Trump's attorneys request to retract the article and apologize.
While the case against Tarpley has been settled, Melania has refiled a defamation lawsuit against The Daily Mail in a New York court after it was kicked out of a Maryland venue for jurisdictional reasons.
Have a tip we should know? [email protected]
Rachel Stockman - President / On Air Host