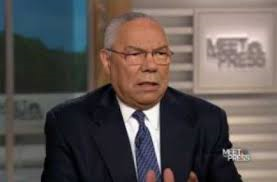 The State Department has confirmed that former Secretary of State Colin Powell and Condoleezza Rice's staff also received classified information at their personal email accounts, according to the Secretary of State's Office of Inspector General. This was first reported by NBC News.
The IG says they found 12 emails that contained national security information that is now classified as "Secret" or "Confidential."
"Last night, we were informed by the State Department Inspector General that former Secretary Colin Powell and the immediate staff of former Secretary Condoleezza Rice received classified national security information on their personal email accounts," said Rep. Elijah Cummings (D-Maryland), Ranking Member of the House Committee on Oversight and Government Reform.
Collin Powell said in an interview with NBC News that he strongly disputes that any secret information went to his personal account and the contents were "fairly minor."
Two of the messages went to Powell's account, and 10 others were sent to the personal accounts of Rice's aides, according to the State Department official. The Inspector General said none of the messages were marked classified when they were originally sent. Powell did admit using his personal account at times which he said was faster but denies any breach in protocol.
This revelation comes as the IG's office is investigating how current and past secretaries of state used their emails with regards to classified information. The FBI is also probing to see whether Clinton, who maintained a personal server, used her email to receive top secret information.
[H/t NBC News, screengrab from Meet The Press]
Have a tip we should know? [email protected]
Rachel Stockman - President / On Air Host