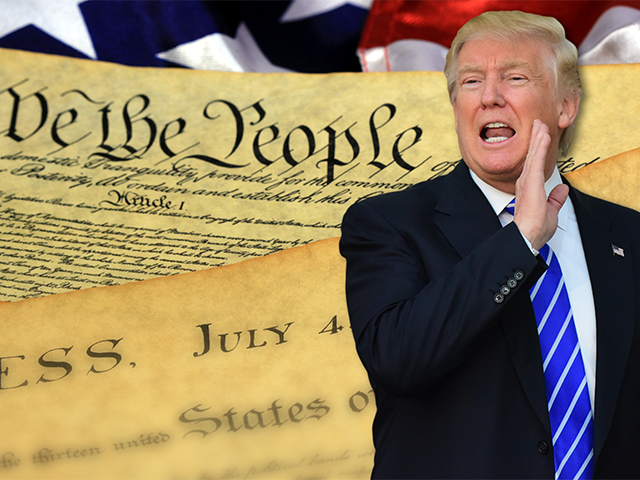 If you were hoping that President Donald Trump's bizarre and unhinged tweet showing him literally beating up "CNN" was the last straw on the sanity scale, you are not alone. Some lawmakers are proposing a bill that would take advantage of Section 4 of the 25th Amendment that basically declares the president unfit to "discharge the powers and duties of the office," and removes him from office.
#FraudNewsCNN #FNN pic.twitter.com/WYUnHjjUjg

— Donald J. Trump (@realDonaldTrump) July 2, 2017
"Given Donald Trump's continued erratic and baffling behavior, is it any wonder why we need to pursue this legislation?" Rep. Darren Soto, D-Florida, a co-signer recently told NBC News. "The mental and physical health of the leader of the United States and the free world is a matter of great public concern."
The legal matter is a bit more complicated than that, and has a very, very small chance of happening. But here's how it would work. The proposed law would set up an 11-member bipartisan commission to medically examine if the president has all his mental and physical faculties. The bill was proposed in May, but is gaining new steam after Trump's tweets about cable news host Mika Brzezinski's' "bleeding facelift," and a video showing him beating up CNN.
The lawmakers contend that he 25th Amendment empowers Congress to establish a permanent body that can declare that the President is "unable to discharge the powers and duties of his office."
"In emergency situations, Congress could pass a concurrent resolution requiring the Commission to examine the President, determine his/her ability to execute the powers and duties of the office, and report its findings to Congress. If presidential incapacity exists, the Vice President would immediately assume the role of Acting President," the press release on the legislation reads.
There is just one problem. And that's the 25th Amendment. It's never been used to remove a president. It's been invoked before but only for short periods. For example, it was used for eight hours in 1985 when President Ronald Reagan had surgery to have a lesion removed. The 25th Amendment requires that the Vice President and a majority of the cabinet or "such other body as Congress" submit a written declaration that the President is "unable to discharge the powers and duties of his office." Meaning Vice President Pence would have to agree to all of this. Under the bill, the commission would be set up to provide the congressional consent needed to remove the President.
Have a tip we should know? [email protected]
Rachel Stockman - President / On Air Host