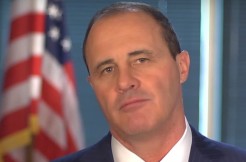 Bill Cosby's criminal defense lawyer has admitted he hosted a fundraiser for a key witness in the comedian's ongoing court battle in Pennsylvania. But it wasn't illegal or shady in context, he claimed in court documents revealed Thursday.
Attorney Brian McMonagle said he supported the failed 2015 reelection campaign of former Montgomery County District Attorney Bruce Castor with a March fundraiser. He personally donated $2,500 while others in his law firm put out at least $1,500.
Castor had been District Attorney from 2000 to 2008, during which he investigated Andrea Constand's claim that comedian Bill Cosby sexually assaulted her. He declined to bring charges. Cosby claimed Castor promised Cosby wouldn't be prosecuted if the comedian participated in a 2005 deposition as part of a lawsuit Constand had brought against him.
It was Castor's political rival, Kevin Steele, who won the 2015 DA election. He had Cosby arrested in December using the deposition as a key part of his case, and now the comedian faces 10 years in prison. McMonagle brought Castor on as a witness in a pre-trial hearing. They claimed that the alleged promise to Cosby years before would've been binding to Steele. The judge didn't buy this argument.
McMonagle has had to detail his past with Castor in response to a subpoena brought by Constand. She's suing Castor for defamation.
"I have known Bruce L. Castor Jr. for many years," McMonagle wrote in court filings. He says nothing corrupt went on. "I have not made any donation of time or money to Mr. Castor's campaign after being engaged by Mr. Cosby in September 2015, nor have I participated in or coordinated in any such donations on anyone else's behalf."
He called Constand's subpoena dirty tactics, "a blatant attempt to disrupt Mr. Cosby's criminal defense and harass his attorney."
Since 2014, over 50 women have openly alleged that Bill Cosby sexual assaulted them. The comedian has denied all allegations, and besides, most cannot be prosecuted because the statute of limitations has run out. Only one has resulted in a criminal charge: Constand's case. She alleges he drugged and sexually assaulted her in his Pennsylvania home in 2004. In the 2005 deposition, he claimed it was consensual.
[h/t Allentown Morning Call]
–
Follow Alberto Luperon on Twitter (@Alberto Luperon)
Have a tip we should know? [email protected]