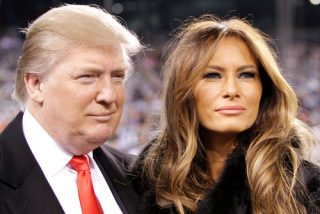 If you are defender and an advocate of the First Amendment, Thursday night's interview with Kellyanne Conway on MSNBC's The Rachel Maddow Show will make you shudder. Conway, who was just appointed top counselor to President-elect Donald Trump, defended Melania Trump's legal strategy in which she is moving forward with a lawsuit against a 70-year old blogger (and The Daily Mail) for $150 million dollars—even after they both apologized and retracted their stories. While Conway denied the Trump administration would embrace Peter Thiel's strategy of putting news outlets out of business as an act of revenge, she was very, very careful with her words, and not at all reassuring. What's more, she wouldn't rule out the possibility that when Trump takes office, he will continue to bully news organizations (and apparently unknown bloggers), and threaten and/or file lawsuits against them.
"I don't want them gone but I want the legal process to take its course," Conway responded when pressed by Maddow.
Earlier this year, Melania Trump hired Los Angeles-based attorney, Charles Harder, who has gained national fame for representing Hulk Hogan in his lawsuit against Gawker. The jury's $140 million verdict bankrupted the gossip website. Trump's wife, Melania, subsequently signed Harder up to defend her in a handful of cases. The one that is particularly troubling is her continued insistence in pressing a $150 million case against an unknown blogger from Maryland. So what did Mr. Webster Tarpley from Maryland do to get the First Lady-elect so mad? He said mean things apparently, and spewed "false rumors."
On his website, Tarpley.net, he blogged about how there were reports that Melania suffered from a "breakdown" after accusations she plagiarized portions of her speech at the GOP Convention, according to court documents. (By the way, she did in fact plagiarize portions of her speech). He also reportedly blogged about "rumors" from other sources that Melania once worked as a high-end escort. The rumors were based on other news outlets reports that came out that said she had. The Daily Mail published a similar story, which has since been retracted, but Melania sued them as well. In a court filing to get the case dismissed, Tarpley accused Melania of acting in bad faith by filing the lawsuit, because she filed it after Tarpley "immediately" complied with Trump's attorneys request to retract the article and apologize.
So recap: 1) 70-year-old man, who up until this lawsuit has no measurable national or local influence, writes about rumors he read on the internet on his own personal blog. 2) Gets threatening letter from Charles Harder, Melania Trump's attorney, to take down said articles. 3) Immediately complies with the request. Takes the articles down, and apologizes. 4) Then a few weeks later, gets sued by Melania Trump for $150 million for defamation. What the heck? How exactly did his barely trafficked website damage Melania's reputation? Her attention to the website unquestionably brought him more notoriety and web traffic then the actual story itself!
So here's the kicker: When Maddow asked Kellyanne Conway if Melania plans to continue with the lawsuit as First Lady, she responded, "I don't know the course of the lawsuit, meaning where it is in the process right now, but she has the right to to defend herself." In other words, this case will move forward!
"I'm defending her right to sue people who spread viscous lies about her," Conway continued.  Of course, any good First Amendment attorney would tell Mrs. Trump, in order to win such a case, since Melania is a public figure, she will have to prove that Webster acted with actual malice which means "knowledge that the information was false" or that it was published "with reckless disregard of whether it was false or not." That's a tough one to prove against Mr. Webster especially since he immediately took steps to correct the inaccuracy when it was pointed out to him.
All I can say, those of us in the media, bloggers, twitterers, and Facebook posters should take note of this case. The mere fact that Melania seems eager to continue to push forward with this lawsuit—even showing up in court earlier this month—may serve as a forewarning of what's to come from the Trump family as they gear up to take on The White House.
[image via Shutterstock]
This is an opinion piece. The views expressed in this article are those of just the author.
Rachel Stockman - President / On Air Host