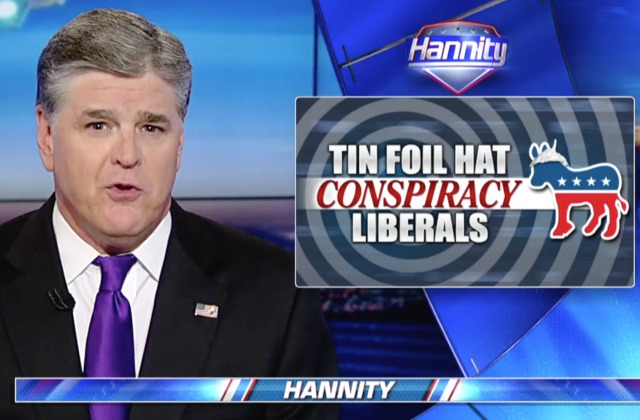 In a bizarre exchange, Benjamin Wittes, well-known in the legal blogging world, went toe to toe with Fox News' Sean Hannity on twitter. Wittes, a fellow at the Brookings Institution and editor of the LawFare blog, even asked whether Hannity was accusing him of a crime as it related to the FBI/Russia probe.
The interaction started when Wittes tweeted out  an ominous"tick, tick, tick" shortly after President Trump went on another tweetstorm casting blame at President Obama for "colluding" or "obstructing" by not doing enough after being notified by the CIA of Russia's meddling in the election. Wittes, by the way, is a longtime friend of former FBI Director James Comey.
Wittes went on to tweet out:
3 things:
1) Not all ticks are related to Comey.
2) Fuse length remains uncertain.
3) Interesting preemptive defense of collusion happening.

— Benjamin Wittes (@benjaminwittes) June 26, 2017
That prompted this response from Hannity:
18 USC 4, 18 USC 641. Good luck. Also I know more than you. Tick, tick tick….. Loretta HRC Comey Tick Tick https://t.co/oBf3W72Hdo

— Sean Hannity (@seanhannity) June 26, 2017
Hannity seemed to be trolling the legal blogger by bringing up what he believes are the two applicable laws that could apply to Comey with regards to his leaking information to news outlets. 18 USC 4 involves concealing a crime, and 18 USC 641 is a federal law which prohibits embezzling /stealing federal records. Wittes was quick to respond
Is it just me or does this read a little off? If I didn't know better I might think a national television host had just accused me of crimes https://t.co/NHDNLuc2Kp

— Benjamin Wittes (@benjaminwittes) June 26, 2017
More trolling by Wittes ensued:
Seriously, man, are you accusing me of crimes? And do you have the guts to do so to my face on your show?

— Benjamin Wittes (@benjaminwittes) June 26, 2017
No word yet if Hannity plans to have the self-proclaimed #supporteroftheDeepState on his show.
Have a tip we should know? [email protected]
Rachel Stockman - President / On Air Host