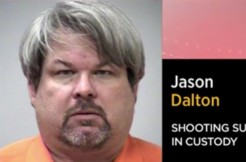 The man who allegedly went on a shooting spree in Kalamazoo, Michigan was an Uber driver. The suspect, 45-year-old Jason Dalton, previously had a clean criminal record, according to Michigan State Police. Dalton is accused of killing six, and wounding two on Saturday. Apparently, he picked up Uber fares before and after the killings, which happened at a car dealership and outside a Cracker Barrel.
A customer went on social media (before the first shooting) to complain that an Uber driver named "Jason" was driving erratically, and almost crashed into a car. She apparently called 911 about him, but "surprisingly they didn't seem all that concerned," she wrote.
The customer deleted the post Sunday, and didn't respond to contact by the New York Daily News. Another customer, an Olive Garden employee, reportedly ordered a ride from Dalton on Saturday hours after the shootings, but canceled.
"Our hearts and prayers are with the families of the victims of this devastating crime and those recovering from injuries," Uber said in a statement Sunday. "We have reached out to the police to help with their investigation in any way that we can."
As for the victims, cops said they weren't related with Dalton's job as an Uber driver.
"Nothing would lead us to believe that the victims had called for a ride," police told the New York Daily News. The victims were either nearby or in unrelated vehicles.
Dalton was arrested Sunday, and is scheduled to be arraigned Monday. Police say there was only one shooter, but they're stilling wondering how all this happened.
"I don't think there is a why," said Lt. Dale Hinz to Wood TV, when asked about a potential motive.
Four of the six victims killed have been identified: Dorothy Brown, 74; Barbara Hawthrone, 68; Mary Lou Nye, 63; and Mary Jo Nye, 60.
UPDATE 2/22/16 3:26pm: Dalton was arraigned on Monday and charged with six counts of murder, two counts of assault with intent to commit murder, and eight felony gun charges. He is being held without bail. If convicted, Dalton could face up to life in prison.
The other two people he killed have been identified as Richard Smith, 53, and Tyler Smith, 18.
[h/t New York Daily News]
[image of Dalton via Wood TV screengrab]
–
Follow Alberto Luperon on Twitter (@Alberto Luperon)
Have a tip we should know? [email protected]