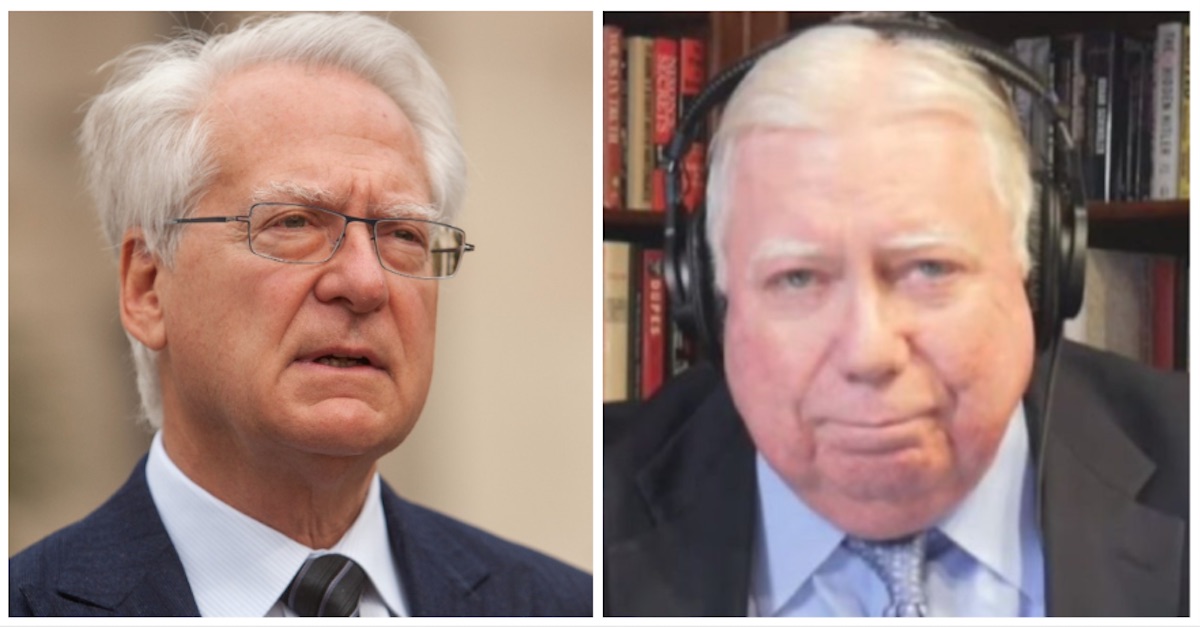 The judge in Roger Stone's case has told right-wing author Jerome Corsi and his attorney Larry Klayman that "a criminal proceeding is not a free for all." These were Judge Amy Berman Jackson's words in a Thursday minute order telling Corsi and Klayman that granting them leave to file an amicus brief did not mean permission to "inform the Court of facts that he wished to bring to the Court's attention on an ongoing basis."
Corsi publicly claimed as recently as Wednesday that Stone "through these or other means, continued to harass and threaten me and my family to try to intimidate and coerce me not to tell the truth if I am called by the Special Counsel at his criminal trial." What means? Corsi claimed he spotted two unidentified individuals "lingering" in front of his and his stepson's house "for no apparent reason." He claimed it was as if "they were watching us and threatening us." They also attempted to get the judge to look into this.
On Thursday, Judge Jackson told Corsi and Klayman they have no business bothering her with this, and they should take all this stuff to prosecutors if it's "legitimate."
"The would-be movant is not a party to this action, and the Federal Rules of Criminal Procedure do not permit intervention in a criminal case, so there is no legal basis to grant him permission to file his motion," Jackson said. "The fact that the Court previously granted the movant leave to file a submission as an amicus curiae with respect to a discrete legal issue then pending before the Court did not operate to designate the movant as an amicus curiae for all purposes thereafter, nor did it invite the movant to inform the Court of facts that he wished to bring to the Court's attention on an ongoing basis."
"Any legitimate reports alleging threats or tampering with witnesses, or violations by the defendant of the order that he not contact the movant, should be made promptly to the prosecution or appropriate law enforcement authorities," she continued. "The Court's docket is not the appropriate vehicle to bring matters to their attention."
Jackson then mentioned Corsi and Klayman's initial amicus brief.
Context: recently, Corsi and Klayman filed an amicus brief geared towards shutting Stone up. This happened before Judge Jackson tightened a gag order that Stone has already pushed boundaries on.
The brief said that Stone should pay for "attempting to smear, defame, and discredit, tamper and threaten Dr. Corsi so that when Dr. Corsi is called as a witness, the jurors will have a false impression of Dr. Corsi as a liar, perjurer, and alcoholic." It also pointed out that Corsi has already sued Stone for such threats.
"It is clear that Defendant Stone's strategy will be to use the media and publicity to argue his case and to try to get public sentiment on his side, as well as to tamper with witnesses like Dr. Corsi," the brief continued. As a result, Corsi asked the judge to issue an order preventing Stone from "making statements to the media or in public settings that pose a substantial likelihood of material prejudice to this case and which in the context of Stone himself and in their ferocity also amount to witness tampering."
Jackson said that although she granted leave for them to file that brief, that didn't mean they had permission to keep sending her tips about Roger Stone.
"The Court also notes that the fact that it granted leave to file the amicus brief did not transform counsel for the movant into a 'filer' or counsel for a party with docketing privileges in this case; indeed, counsel seems to be aware of that restriction since he managed to docket the pleadings only by falsely designating them in the ECF system as entries of his appearance," she said.
"Since the pleadings were entered on the docket because counsel misrepresented the nature of the filings, it is hereby ORDERED that they be stricken from the record," she said. "The motion would not have been granted in any event for the reasons set forth above. "
Lastly, she said, "a criminal proceeding is not a free for all." Thus, she ordered that "any person, including this movant, who seeks leave to file a pleading in this case as an amicus curiae must file a motion for leave to file the pleading in advance, setting out the information that would be required under Local Civil Rule 7(o), and that the proposed pleading may not be filed unless and until permission has been granted."
"This means that the specific information sought to be placed on the public record may not be incorporated in the motion requesting permission to file it," she explained.
[Images via Allison Shelley/Getty Images, Newsmax screengrab]
Have a tip we should know? [email protected]