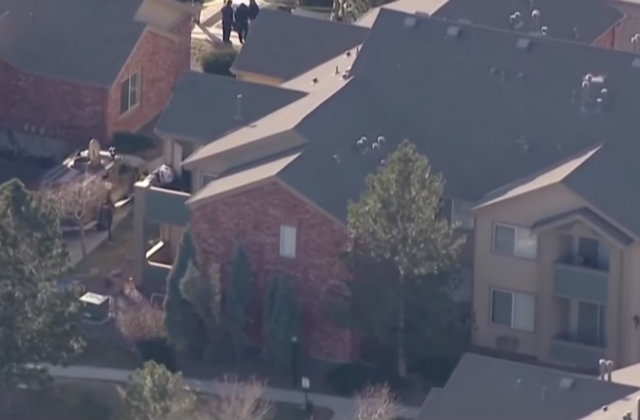 DENVER (AP) — A man fired more than 100 rounds at sheriff's deputies in Colorado early Sunday, killing one and injuring four others, before being fatally shot himself in what authorities called an ambush. Two civilians were also injured.
Douglas County Sheriff Tony Spurlock said deputies came under fire almost immediately after entering a suburban Denver apartment and trying to talk with the suspect, who was holed up inside a bedroom.
"I do know that all of them were shot very, very quickly. They all went down almost within seconds of each other, so it was more of an ambush-type of attack on our officers," Spurlock said. "He knew we were coming and we obviously let him know that we were there."
The wounded deputies tried to pull the fallen officer, identified as Zack Parrish, out of the line of further gunfire but were unable to because of their own injuries and only managed to "crawl to safety," Spurlock said.
The incident occurred around 5:15 a.m. at Copper Canyon Apartments, a landscaped apartment complex in Highland Ranch, 16 miles (28 kilometers) south of Denver. Authorities had left the home about four hours earlier to address a noise complaint but returned in response to reports of a disturbance at the home.
There were two men inside the home when deputies arrived and someone let them inside, Spurlock said. He said the disturbance was initially reported to be domestic but turned out to be noise-related.
"The suspect was just making a ton of noise and annoying everyone around him," Spurlock said.
Resident Steven Silknitter, 50, told The Denver Post that he heard 15 to 20 shots.
"It was back and forth — unbelievable," said Silknitter, who lived in the Denver suburb of Aurora during a 2012 movie theater shooting that left 12 dead. "Where do you move to?" he said, shaking his head in exasperation. "It's everywhere."
The suspect was well-known to authorities in the Denver area but had no criminal record, said Spurlock, who declined to name him until his identity was confirmed.
The sheriff did not release any details about the weapons and ammunition used except to say the suspect had a rifle.
Parrish, the slain officer, was 29 and a married father of two young children. He had been with the department for about seven months. Spurlock called him a "good kid" who was eager to work.
"His wife told me today that he loved this job more than he had loved any job he ever had," the sheriff said.
The four injured officers, who range in age from 28 to 41, were in stable condition, and the two civilian injuries were not life-threatening.
Boulder County Sheriff Joe Pelle said his son, Douglas County sheriff's deputy Jeff Pelle, underwent surgery from injuries suffered in the attack and was recovering.
President Donald Trump expressed sorrow, writing on Twitter, "My deepest condolences to the victims of the terrible shooting in Douglas County @dcsheriff, and their families. We love our police and law enforcement – God Bless them all!"
The shooting occurred on the final day of a year that saw the deadliest mass shooting in modern U.S. history in Las Vegas.
__
By COLLEEN SLEVIN and ELLIOT SPAGAT, Associated Press. Spagat reported from San Diego.
[Screengrab via Washington Post]
Have a tip we should know? [email protected]