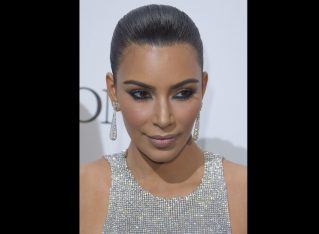 Paris investigators announced on Tuesday that the theft of more than $10 million worth of jewelry and other personal items from a high-end apartment where Kim Kardashian was staying back in October was likely an "inside job."  The reality television star and wife to singer Kanye West was present during the robbery and was allegedly tied up by the intruders.
French police announced on Monday the arrest of 17 suspects in connection with the robbery.  According to The Associated Press, several unidentified officials confirmed Kardashian's chauffeur, Michael Madar, 40, and his younger brother Gary Madar, 27, who also worked at the livery company, were two of the individuals arrested Monday.  The arrest of the Madar brothers reportedly gave police on of strongest clues pointing to a possible inside job robbery.
The other suspects reportedly arrested in connection with the case are said to range from 23-years-old and 72-years-old, and many are believed to have a history of participation in robberies.
French officials did not explain any further details about the case or how the robbery may have been planned.
When reports initially surfaced about the robbery, some skeptical gossip blogs claimed to have sources telling them Kardashian was in on the robbery as well.  She threatened legal action and the website quickly retracted the story.
[image via BAKOUNINE/shutterstock]
Have a tip we should know? [email protected]