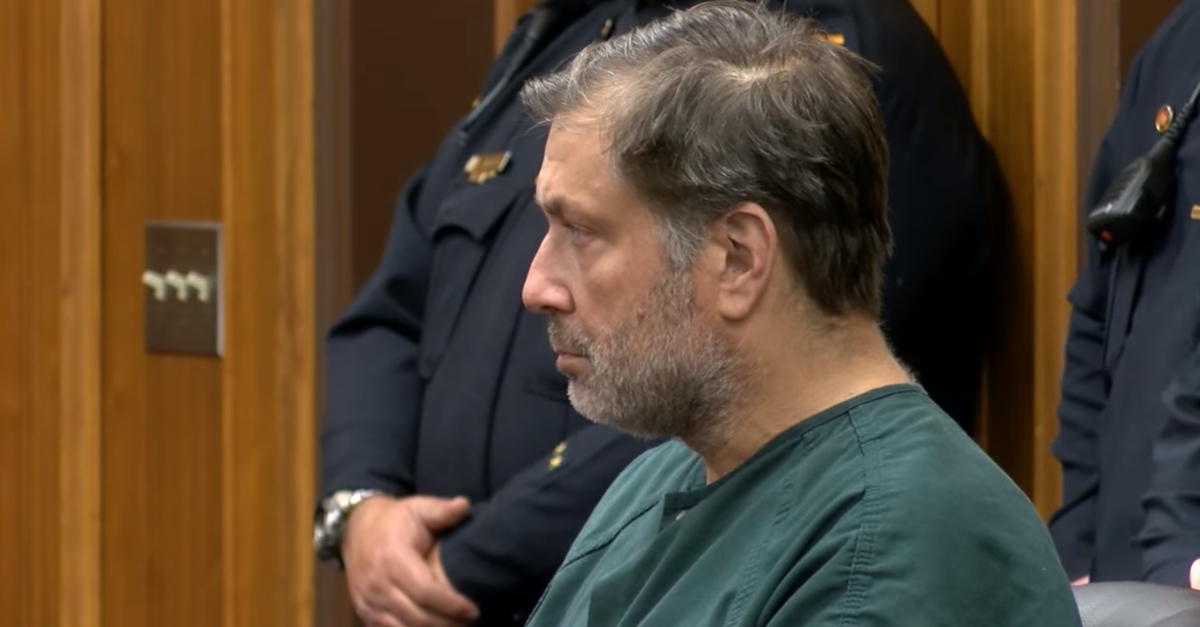 Monmouth County prosecutor Christopher J. Grammiccioni said last November that New Jersey man Paul Caneiro committed a quadruple murder over money. Now we know why authorities believe that. The defendant and his brother Keith Caneiro, a victim, owned two businesses together, and Keith wanted to cut Paul off, according to a newly released affidavit.
Keith, his wife Jessica, 8-year-old daughter Sophia, and 11-year-old son Jesse were found dead on Nov. 20, 2018. A fire engulfed their Colts Neck, N.J. home. Paul was initially charged for starting a fire at his own home in Ocean Township that night, but was later charged for the murders.
Keith was found outside of his home, shot once in the lower back and four times in the head, investigators said. Jesse was discovered on the kitchen floor, stabbed multiple times. Sophia was found on the landing of the stairs leading between the first and second floors. She was also stabbed multiple times. Jessica was found dead on the stairs leading from the first-floor to the basement. She was shot once in the head, and stabbed multiple times. A fire was set in the basement.
Robert Honecker Jr., an attorney for Paul Caneiro, insisted in November that the defendant had saved his family in the Oceantown Township home. Grammiccioni said at the time that this second conflagration was a "ruse."
In the new affidavit, another Caneiro brother told investigators that Keith forwarded an email to him. Keith had written two business associates that money was missing from the business, and he would cut off payments to Paul's wife until that cash was found again. This third brother also claimed that Keith wanted to sell one of his businesses, and that Keith voiced frustration with how Paul used money in their business accounts. An office manager for Paul and his alleged victim said that Keith owned a 90 percent share of Squareone, Inc, and that Paul had the remaining 10 percent. The brothers split control of EcoStar Pest Management Company, she said in the affidavit.
This office manager said that Paul's salary was being sent to his wife because he was considered disabled from a car accident. She said that Keith had told her to stop payments because of a dispute with his brother over the money.
The defendant pleaded not guilty to charges last year. He did get into a car accident in 2012, almost dying, according to The Asbury Park Press. Friend Demetrius Potamianos told the outlet that Caneiro required multiple surgeries, endured physical and emotional stress, and was "never the same." A neighbor, who asked to remain unnamed, also said that the defendant "wasn't the same" because of the accident, and dealt with a limp and back issues.
Caneiro is now charged with four counts of murder, two counts of felony murder, two counts of aggravated arson, possession of a firearm for an unlawful purpose, possession of a knife for an unlawful purpose, unlawful possession of a firearm, unlawful possession of a knife, theft, misapplication of entrusted property, and two counts of hindering apprehension, according to the app.
His attorneys previously denied the murder and arson allegations.
"Today, we received a copy of the indictment regarding our client," Honecker and co-counsel Mitchell Ansell said in a new statement provided to Law&Crime. "We're in the process of reviewing the indictment with our client and discussing the potential issues related to the indictment. Under the court rules, we now have access for the first time to all of the state's evidence in this matter, which they believe supports their theory of the case. We also have to review that evidence to identify any issues that may be related to the case. We will have additional comments at the appropriate time."
[Screengrab via NJ.com]
Have a tip we should know? [email protected]