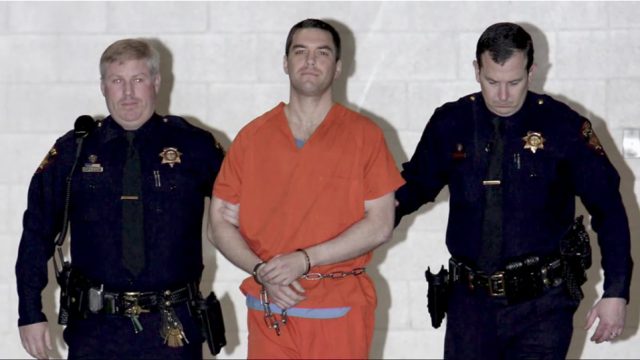 Longtime journalist Richard Cole–who covered every nook and cranny of the Laci Peterson and Scott Peterson saga–and the lead detective in that case, Jon Buehler, who helped put Scott Peterson behind bars, duked it out recently on LawNewz' official podcast, The Dan Abrams Debate Series, hosted by LawNewz founder, Dan Abrams.
Here's a brief rundown of how things went, but we encourage you to download the full episode on iTunes.
Buehler started things off by addressing one of the apparent weaknesses in the case. The now-retired detective first admitted that Peterson was convicted based solely on circumstantial evidence–and that Peterson's conviction didn't have "some of the things that people come to enjoy on television shows," like a witness or a video. However, Buehler noted, many cases are made on circumstantial evidence alone. He then ran through his major points:
1. Scott's ambivalence about having a baby. At least two comments suggest Scott never wanted a child in the first place. He apparently said once, while holding a friend's baby, "This isn't much fun." Later on, when asked by a different friend about the upcoming birth of his son, Scott allegedly said, "Well, I was kinda hoping for infertility."
2. The other woman. Scott had an ongoing romantic relationship with a woman named Amber and suspicious text messages about having more time for her after the holidays. Buehler suggested Scott's comments toward Amber were a reference to the eventual murder of Laci.
3. Scott's secret boat. Scott Peterson's purchase of a boat–and hiding said boat–was very suspicious to Modesto Police investigators.
4. Scott's interest in tides and depths. Computer analysis showed that Scott engaged in a bit of internet research about tides and depths–but apparently no research regarding fishing itself.
5. Scott's strange emotions. Buehler notes a few apparent problems with how Scott reacted. First, there were a series of allegedly staged, and "flowery" messages left on Laci Peterson's voicemail inbox. But, when Laci disappeared and was later found dead, "[Scott] was as cool as a race car driver. He had no emotion about this." Finally, Buehler categorizes some of Scott's comments to his mistress Amber as "mock sorrow," which he allegedly turned on and off at the drop of a hat.
6. Maybe some evidence after all? Buehler also claims that Scott "constructed [the] anchors" allegedly used to sink Laci's body in the Berkeley Marina–and that his boat had, "residue on the side of the boat where someone would roll a body out."
7. Asking for a lawyer. Scott Peterson frequently requested to speak to a defense attorney before speaking to police.
Veteran journalist Richard Cole then laid out his arguments in favor of Scott Peterson's innocence. (A full run-down of Cole's basic case can be read here.) Then things heated up.
As Cole provided his theory for how things actually went the day of Laci Peterson's disappearance, Buehler took issue. Cole honed in on a walk taken by Laci with the family dog–a walk which allegedly occurred after police say Laci was murdered–and which was apparently seen by a dozen people in the neighborhood.
According to Cole, Modesto Police completely disregarded the testimony of those witnesses. Buehler interjected, "That's not what happened." Cole pressed on, reiterating that Scott Peterson was an innocent man.
Host Dan Abrams then attempted to clarify Cole's position, asking how Laci Peterson showing up exactly where Scott had been fishing helped his case. Cole responded that it was the condition of Laci's body that helped show Scott's innocence, not necessarily the location where the body was found.
Buehler then jumped in. He rejected Cole's claim about the anchors being insufficient to sink Laci's body, saying that he had been scuba diving in the past and was able to sink with less than 40 pounds of weight.
Buehler also categorized various accounts of Conner Peterson's age at the time of his death as "speculation," before noting that a substance was inside of the child's body that is not typically present in children that have been born.
Cole then said it was most likely that Conner was not born at the time of the murder and offered his theory as to how Laci Peterson showed up near where Scott had been fishing on the day of her disappearance.
For that that, he blamed the Modesto Police Department, who had highly publicized Scott's location the day Laci went missing. This, Cole contends, was a perfect out for Laci's actual kidnappers–they could dispose of the body after their failed ransom attempt and put all the blame on Scott.
The entire debate is fascinating and we'll leave it up to you to decide who made the better case. Listen to the full podcast–the second installment in The Dan Abrams Debate Series–on iTunes.
[image via screengrab]
Follow Colin Kalmbacher on Twitter: @colinkalmbacher
Have a tip we should know? [email protected]