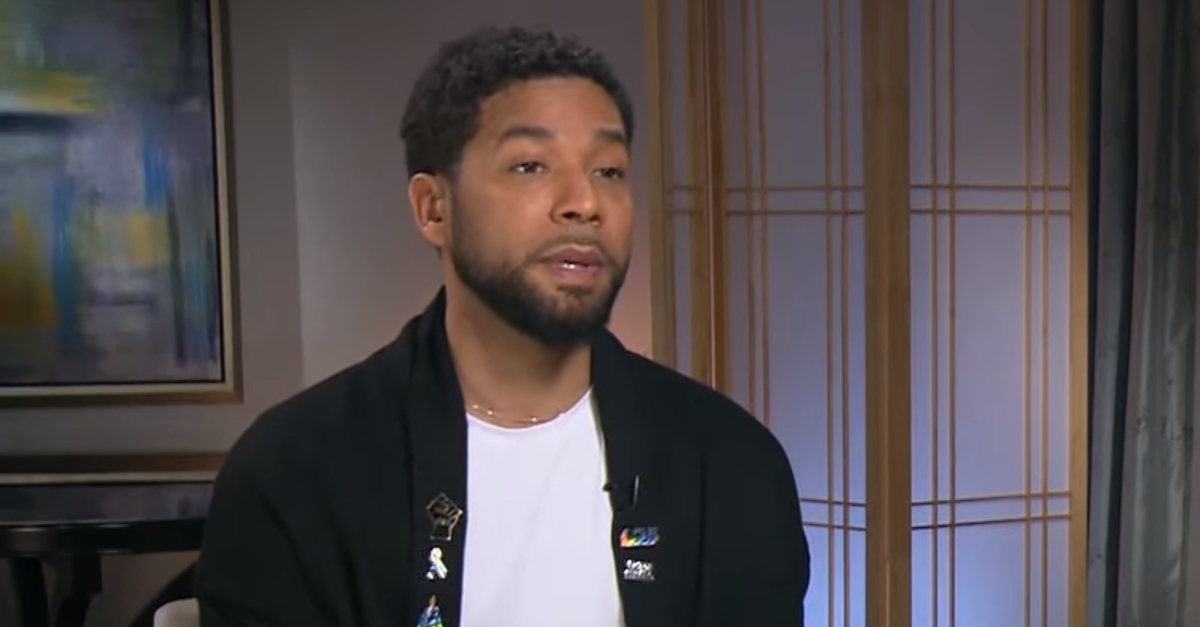 Not long after it was announced that Empire actor Jussie Smollett was being treated as a suspect for lying to cops about his story that two men attacked him on January 29, 2018 in a racist and homophobic assault, Smollett has been charged with felony disorderly conduct. Chicago detectives presented evidence before a grand jury on Wednesday.
Chicago Police Department's top spokesman Anthony Guglielmi confirmed that Smollett was a suspect for filing a false police report. Law&Crime columnist Elura Nanos previously suggested that Smollett might be charged with this crime, which is a class 4 felony.
Case Update: Jussie Smollett is now officially classified as a suspect in a criminal investigation by #ChicagoPolice for filing a false police report (Class 4 felony). Detectives are currently presenting evidence before a Cook County Grand Jury. pic.twitter.com/FhDcbBKsuU

— Anthony Guglielmi (@AJGuglielmi) February 20, 2019
Filing a false police report is punishable by up to three years in prison, it should be noted. News broke on Wednesday evening that Smollett has been charged with felony disorderly conduct. Disorderly conduct in Illinois includes filing of a false report of a crime.
Felony criminal charges have been approved by @CookCountySAO against Jussie Smollett for Disorderly Conduct / Filing a False Police Report. Detectives will make contact with his legal team to negotiate a reasonable surrender for his arrest. pic.twitter.com/LvBSYE2kVj

— Anthony Guglielmi (@AJGuglielmi) February 21, 2019
These are the possible punishments for class 4 felony disorderly conduct:
Disorderly conduct charged as a felony may result in an increased punishment. A Class 4 felony may result in a term of imprisonment for one to three years, while a Class 3 felony can lead to a sentence of two to five years. For a Class 3 felony, the Illinois disorderly conduct laws specifically require a fine in an amount between $3,000 and $10,000.

For each sentence, state law requires an additional penalty of 30 to 120 hours of community service if available in the local area.
All of this follows weeks of scrutiny, rumors, and tense national debate. Smollett said he was going to get something from Subway when men attacked him, put a rope around his neck, and poured on him what he believed to be bleach. He told GMA host Robin Roberts that they yelled, "This is MAGA country," though he denied they wore the MAGA hats.
Skeptics called the story outlandish. The story did fall apart, as police started to probe inconsistencies in it. ABC 7 Chicago reported sources saying police suspected the attack was a hoax. Guglielmi quickly pushed back, saying there was "no evidence" to support the reporting. The following Saturday, however, he acknowledged that the investigation was changing focus. Police said they investigated two persons of interest in in the attack, persons who ended up being two brothers, Ola and Abel Osundairo. They claimed Smollett paid them to stage the assault. The two were also reportedly appeared as extras on Empire.
Smollett has denied allegations that he faked the story. His attorney said he was "victimized" by claims this was hoax.
Editor's note: this story was updated after publication to reflect that Smollett has officially been charged.
[Screengrab via ABC]
Have a tip we should know? [email protected]