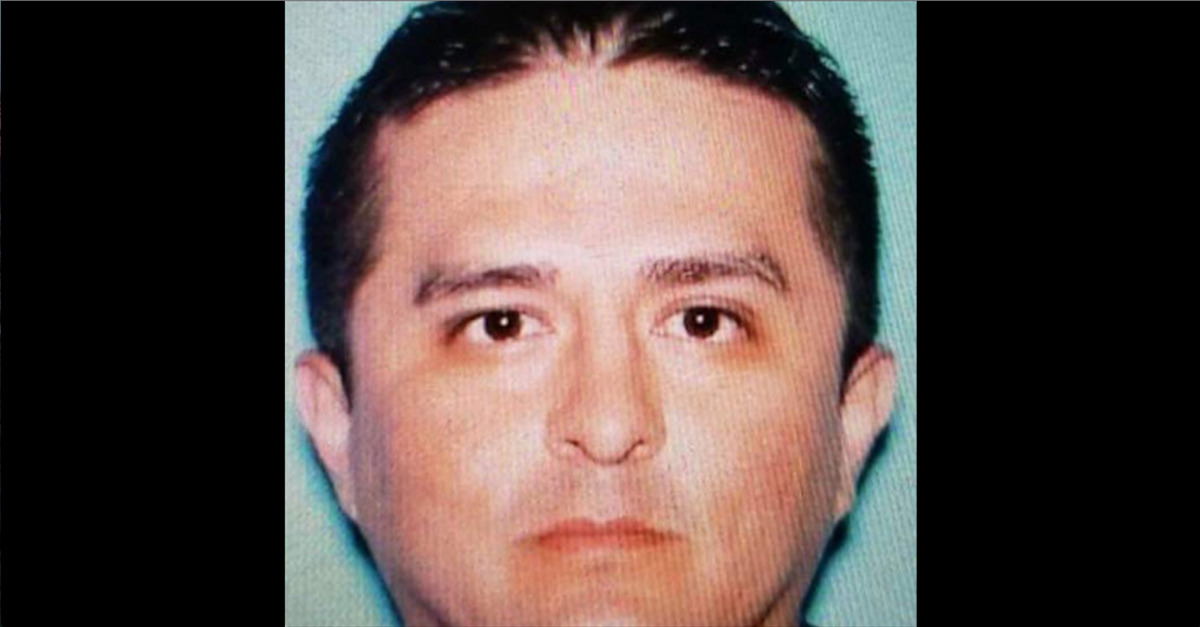 A long-serving border agent was arrested by authorities in Laredo who have been hunting down a serial killer terrorizing women in South Texas over the past month.
Juan David Ortiz is a nine-year veteran of U.S. Customs and Border Protection (CBP) and now-former supervisor there. He's facing at least four murder convictions after being taken into custody early Saturday morning, according to a press conference held by Webb County Sheriff Martin Cuellar.
Ortiz initially fled from state troopers after being approached, then hid in the parking lot of a Laredo hotel where he was subsequently arrested, the agency said in comments to the media.
According to Webb County District Attorney Isidro Alaniz, authorities were able to hone in on Ortiz after his fifth would-be victim escaped and accused Ortiz of trying to kidnap her. In a statement released to the Associated Press, Alaniz confirmed that all of the women targeted by Ortiz worked as prostitutes.
Speaking to the Laredo Morning Times, Alaniz said:
We have probable cause to believe that he is responsible for this series of murders, which I would qualify as a serial murderer.
After being interrogated, Ortiz confessed to the four-known murders. Additionally, Ortiz confessed to aggravated assault and kidnapping, according to the Webb County Sheriff's Office. This marks the second homicide investigation in Webb County of an agent serving the Laredo sector of the U.S.-Mexico border.
Two of Ortiz's admitted victims were discovered alongside Interstate 35 in a rural, northwestern patch of Webb County, according to the Laredo Morning Times. The third and fourth victims were discovered just this weekend in the early morning hours on Saturday and on Saturday afternoon, respectively.
The third woman's body was discovered roughly around the same time or just after Ortiz had been taken into custody, according to Laredo-based reporter Valerie Gonzalez.
Authorities believe Ortiz acted alone.
In a bid to calm fears in the community, Sheriff Cuellar said, "The county, the city can rest assured we have the serial killer in custody."
The Laredo Police Department issued a similar message, saying in a written statement:
We want to reassure the citizens of Laredo that the community and your families are safe. There has been a recent breakthrough in the investigations and there has been someone detained. hat information belongs to the corresponding agencies who are handling the information and will make a more in depth release at the appropriate time. We value the release of timely information and we are making this notice public in order to remove any unnecessary fear in the community. There will be information made available very soon by those agencies who are in charge of the case. Meantime we maintain our city's safety and security and our responsibility to make you feel safe as well.
The investigation is currently being led by the Texas Rangers and began after Melissa Ramirez, a 29-year-old mother of two was found dead on September 4 near an intersection.
On Thursday, 42-year-old Claudine Anne Luera was found fatally wounded near that same intersection. Luera died after being rushed to a nearby hospital.
Update: Andrew Meehan, Assistant Commissioner for Public Affairs, United States Customs and Border Protection released the following statement on behalf of CBP:
In the early morning hours of September 15, 2018, the Texas Rangers arrested a Supervisory Border Patrol Agent. There are charges pending related to multiple homicides in the Laredo area. This is an ongoing investigation, involving the Texas Rangers and the Webb County Sheriff's office. CBP's Office of Professional Responsibility and United States Border Patrol are fully cooperating with all investigators. While it is CBP policy to not comment on the details of an ongoing investigation, criminal action by our employees is not, and will not be tolerated. Out of respect to the victims' family and friends, we ask that deference and due process be given to the investigation so that all the facts are brought to light and they can receive the closure they deserve.
Editor's note: this story has been amended post-publication with an image of the confessed killer which has been verified by the Webb County District Attorney–and to include CBP's statement.
[image via Valerie Gonzalez and KRGV-TV; used with permission]
Follow Colin Kalmbacher on Twitter: @colinkalmbacher
Have a tip we should know? [email protected]