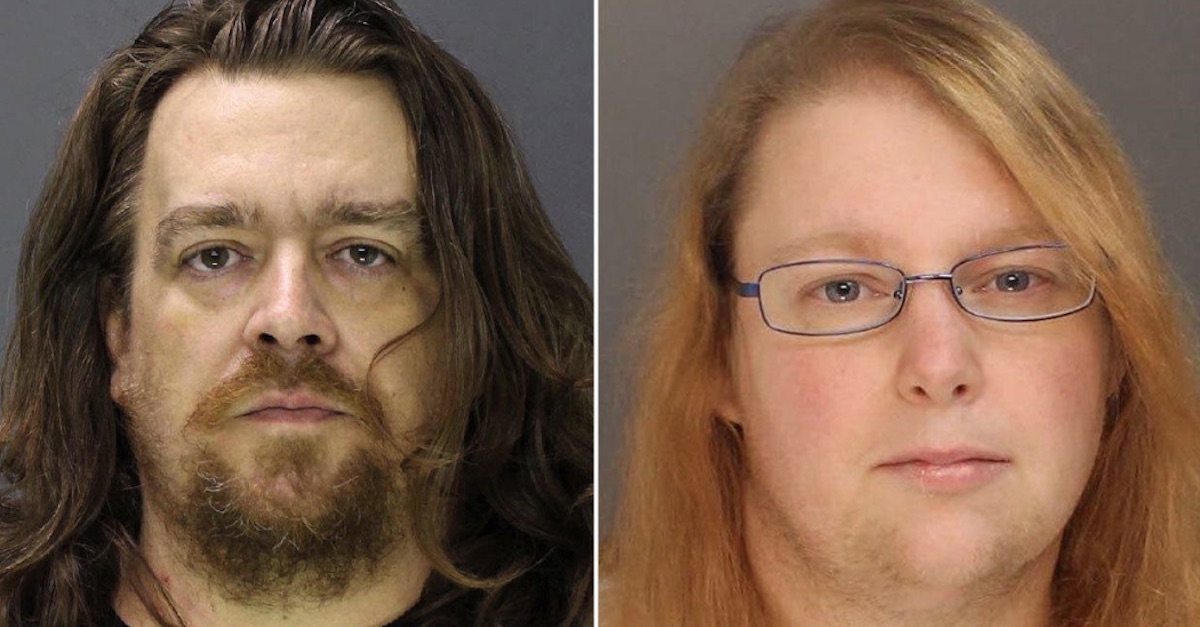 The adoptive mother of murdered 14-year-old Grace Packer was allegedly the "mastermind" behind the young girl's death, according to defense attorneys representing Jacob Sullivan–the man who previously admitted to carrying out the crime.
According to the New York Daily News, Sara Packer was prepared to admit as much in court on Wednesday. Just the opposite occurred.
During Sullivan's sentencing hearing in Bucks County, Pennsylvania, the prison-garbed Packer was reportedly smirking when she told the jury it was Sullivan's idea to rape and kill her adopted daughter.
"I got wrapped up in Jake's fantasy," she said. "I didn't think I could tell him no without losing him."
Sara Packer did admit her complicity in the plan–but insisted the idea wasn't to kill the girl. Rather, Sara Packer said, she and Sullivan had simply intended to imprison teenage Grace in the attic of their house "for years" so that Sullivan could rape her whenever he desired.
In 2016, hours after Sullivan admittedly raped Grace Packer he admittedly strangled her to death–eventually pleading guilty to 18 charges including murder, sexual assault of a minor and kidnapping.
As Law&Crime reported at the time, Sara Packer was allegedly "sexually aroused" while her Viagra-fueled boyfriend punched and then raped her adopted daughter. Packer then allegedly gagged the girl, forced her to take sleeping pills and tied her up.
"I think he just panicked," Sara Packer claimed before the assembled group of jurors. "The reality of what he had done set in, and there was no going back. So he decided that it was time for her to die."
According to local Fox affiliate WTXF, Sara Packer monotonously admitted in court that she "hated" her adoptive daughter because she was a "very difficult child" and that she grew to want her dead.
"Grace had become, for lack of a better word, a non-entity," Sara Packer said. "She just didn't exist anymore. I wanted her to go away."
So, the two plotted Grace Packer's kidnapping and rape for months. They initially drugged the girl by occasionally putting medication in her food in order to "make her compliant, make her groggy," according to Oxygen.
On July 7, Grace Packer was drugged again and brought to the hot attic of a rental home.
Sara Packer said Grace looked to her for help as Sullivan punched the teenager in the face and then began having sex with her against her will.
"I can't help you anymore," Sara Packer said she told Grace as Sullivan raped her. "This is your life now."
The next morning, Sullivan and Sara Packer discovered that Grace had broken free of some of her restraints and removed her gag. That's when the murder occurred.
"I took her hand and told her it was okay to go," Packer said in court. "It seemed like it took forever, but it was only a couple minutes."
The sentencing hearing is to determine whether Sullivan will receive the death penalty or life in prison for his role in the shocking crime. Sara Packer has agreed to plead guilty in exchange for a life sentence.
[image via Bucks County District Attorney]
Have a tip we should know? [email protected]