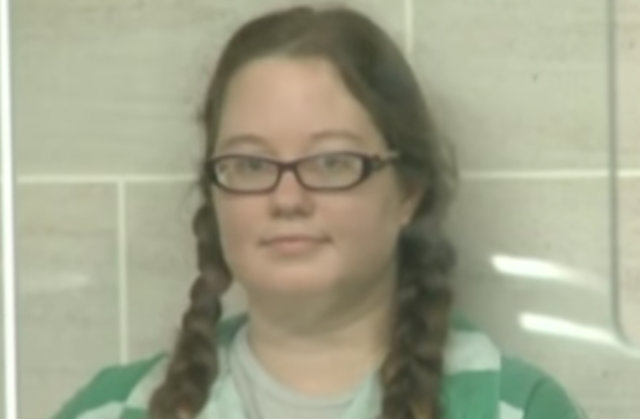 Evidence showed that Lauren Kirk-Coehlo wrote about wanting to kill people, but she's free after pleading guilty to vandalizing a mosque. A Yolo Superior Court judge sentenced her to five years of probation Friday for placing bacon on the building's door handles, breaking windows, and slashing several bike tires and one seat, according to a Sacramento Bee report. The defendant could have spent up to six years in prison.
Video of the vandalism, on Jan. 22 at the Davis, California mosque, can be seen here.
Muslims are prohibited from eating pork.
Kirk-Coehlo has been locked up in jail for four months. Now she must attend weekly counseling, perform 120 hours of community service, do cultural sensitivity training, and stay away from social media during her probation. She has paid $7,612 to the mosque. Authorities get the right to search her home and computer.
Judge Daniel P. Maguire said on Friday he was "cautiously optimistic" her probation would work out. Kirk-Coehlo's mother, Nancy Kirk, told the probational department that her daughter had suffered from bipolar disorder, and hasn't gotten treatment since at least 2011.
"When she's not being treated, she comes off the rails, which happened here," Maguire said Friday. "When she is treated, she can thrive." He pointed out that the only thing on her record was misdemeanor trespassing.
Prosecutors pushed for a harsher sentence because of things she'd said on social media.
"Her dream is to kill many people, particularly minorities," said Yolo County Supervising Deputy District Attorney Ryan Couzens on Friday. "She talked about blowing up cities. It makes me afraid, and it makes me afraid for the community."
It was argued Kirk-Coehlo's Internet use showed a proclivity toward violence. She did online searches of anti-Muslim attacks, and also commended racist mass murderer Dylann Roof, who has been convicted in the 2015 murder of nine black churchgoers in South Carolina.
Davis police Detective Daniel La Fond wrote a declaration that she voiced bigoted statements about Jewish, Mexican and black people. She also researched bomb vests, and texted that she had "dreams and aspirations" about killing people, according to the declaration.
Co-counsel David Dratman said her statements were just talk.
"Social media is where we share thoughts we don't turn into action," he argued. He said there was no evidence of her trying to get any weapons, let alone bomb vests.
[Screengrab via CBS Sacramento]
Have a tip we should know? [email protected]