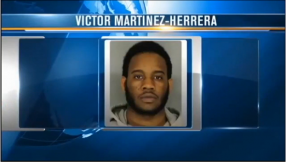 Lights and sirens are rarely a welcomed sight for cab drivers, but for Ralph Valletta, a Reading Metro cabbie, they may have saved his life. Cameras were rolling in Valletta's cab as he was held at gunpoint by Victor Martinez-Herrera. Unluckily for Martinez-Herrera, and luckily for Valetta, Berk's County Sheriff's Deputy Terry Ely was right behind the cab and caught the bizarre crime in progress before things took a turn for the worse.
It was an ordinary ride for Valletta, when he suddenly felt the presence of a gun over his right shoulder, and heard the threats and demands of a man asking for money. That's when Ely noticed something suspicious. "It was a red light," Ely told 69 News. "It then cycled through to green. The car did not move, and it went back to red again. At that point, I just wanted to make sure everything was OK in the car."
"Give me all your money, man… I need it all right now if you don't want to die," a masked Martinez-Herrera screamed at Valletta. As Ely approach the vehicle, he heard the threats and realized what was happening. "At that point, I heard the driver say, 'Just please don't shoot me.'"
Ely drew his firearm and ordered the gunman out of the vehicle and onto the ground until backup arrived. The firearm was soon discovered to be a pellet gun equipped with fiber optic sights, authorities later discovered.
The 18-year-old, who lives just one block away from the scene, has been charged with robbery, terroristic threats and simple assault. Martinez-Herrera is being held at Berks County Jail on $100,000 bail.
As for Valletta, he's back on the job.
Check out the scary surveillance video from the cameras inside the cab below.
[h/t WFMZ]
[Screengrabs via WFMZ]
Have a tip we should know? [email protected]