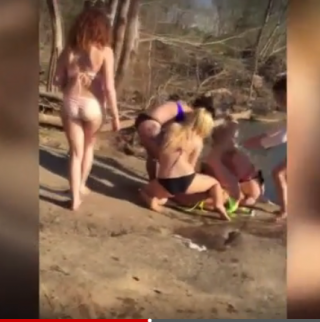 The senseless beating of a 20-year-old girl caught on camera has led to serious charges for three young girls in Columbia, SC.
In the video, you can see the three young girls kneeling on top of a another girl in a lime-green bikini. The girls appear to work together as one holds her down, another grasps her hair and a third beats her face. Suddenly, the attackers stop the beating and apparently nonchalantly walk away as the video shows the victim in pain laying on the riverbank of the Saluda river.
Warning: The following video contains graphic content.
The police don't know what lead to the attack, but the victim, who suffered a broken nose and a concussion, was soaking up the sun with a co-worker when she was jumped and attacked, according to a police report. The victim's name has not been released.
Ramy Williams, a friend of the victim, told WIS-TV the video was nauseating to watch."One's kicking her, and she's completely helpless. It's just really hard to watch," Williams said. "The other one was just wailing on her face, wailing on her head, you know, on the back of her head. It definitely could have killed her.  Seeing the aftermath was just insane: the way that she had blood all over her face, two black eyes, you can tell that she's completely messed up in the face."
Columbia police have arrested three women in connection with the attack: Arlinda Craft, 18, Anns Leigh Hill, 19, and Megan Williams, 20, each of whom are being charged with second degree assault and battery by mob.
[h/t WTKR]
[Screengrab via WTKR]
Have a tip we should know? [email protected]