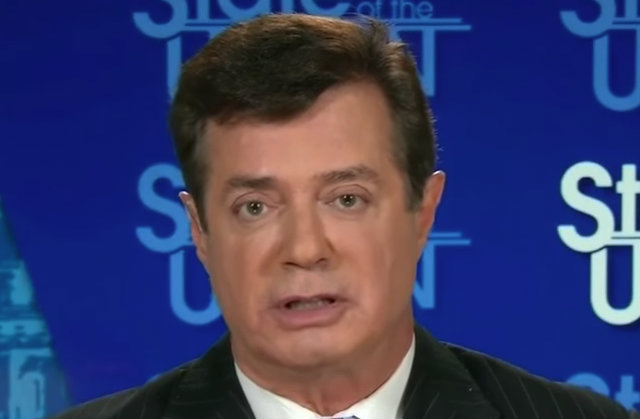 Yesterday, special counsel Robert Mueller claimed former Trump campaign manager Paul Manafort broke a gag order by co-ghostwriting an op-ed. The defense must still respond, but a new third-party is stepping in.
Oleg Voloshyn, a former spokesman for the Ukrainian government, told Bloomberg in a Tuesday report that he wrote the unpublished article, and only asked Manafort for help with fact-checking.
"He just advised me to add that the Yanukovych government also worked actively with the U.S. on nuclear disarmament and with NATO," Voloshyn told the outlet about Manafort. "And since I knew of that as well, I agreed those could be valuable contributions to strengthen my message."
He said he originally sent the article to Konstantin Kilimnik, a Russian colleague of Manafort in the Ukraine. Kilimnik in turn, sent the op-ed to Manafort.
The article remains unpublished. Kyiv Post editor Brian Bonner told Bloomberg he got the article on Monday. The Kyiv Post, an English-language Ukrainian outlet, had no plans to release it. He said the op-ed was "highly suspicious" and "blatantly pro-Manafort."
Prosecutors claimed on Monday that Manafort wrote the article with the help of a Russian linked to the Russian Federation's intelligence services. The did not identify the individual in question but claimed the op-ed violated the gag order on Manafort, and was designed to make Manafort look good.
At the very least, Voloshyn's claim will raise some eyebrows. Manafort and co-defendant Richard Gates were indicted in October for working as unregistered agents of the Ukrainian government, in part under former President Viktor Yanukovych. Other charges included money laundering and conspiracy. Voloshyn said he was a spokesman for the nation's Ministry of Foreign Affairs until he left that post in 2013.
He also said his article had nothing to do with Manafort's charges, and he would gladly talk with the FBI about it.
"It's a big scandal about nothing," he said. "The Kyiv Post is hardly known in America."
The news is certainly a big deal to Mueller's team. They're using the recent allegations to maintain Manafort's house arrest. It's presently unclear what the defense will actually say in response. U.S. District Judge Amy B. Jackson gave them until Thursday to file a response.
[image via screengrab courtesy CNN]
Have a tip we should know? [email protected]