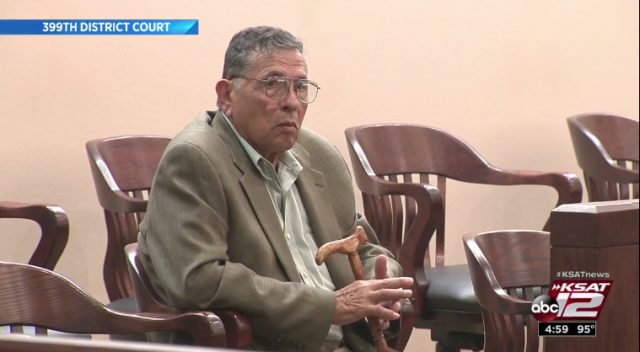 Seventy-five-year-old Pete Ortiz, Jr. turned himself in to a Texas district judge on Wednesday over an outstanding warrant–for murder–from 1963.
In March of that year, Ortiz was indicted for the slaying of Joe Ovalle, a painter of signs who was also apparently an informant for federal narcotics agents. Ovalle was shot and killed in his own driveway days before Christmas, 1962.
Another man, Frank Juarez, was also indicted on charges of murder-with-malice for Ovalle's death. According to Juarez, he and Ortiz killed the self-employed sign painter after being hired to do so–for $1,000.
The third party is said to have wanted Ovalle dead due to his informant status. Juarez was convicted in April, 1963.
Upon Ortiz' surrender, Texas District Judge Frank Castro asked, "Where have you been all these 55 years?" Ortiz replied:
I work all the time. I work in the fields picking cotton, I followed the migrants to Wisconsin.
According to Ortiz' attorney, John Kuntz, his client was simply riding in the same car with Juarez on the night of the murder and did not participate in Ovalle's death. Kuntz said, "Pete did nothing to aid, assist, abet or encourage this murder."
Bexar County District Attorney Nico La Hood said his office is considering following up on the decades-old prosecution–but noted that it wouldn't be easy. In comments to KSAT12, he said:
We have a file. Obviously it is an old file — it was in archives — but there's a file. There's a challenge that comes with this. Witnesses, statements, investigations that were done back then versus now, so we're in the process of evaluating all of that.
Ortiz apparently turned himself in because he was tired of hiding and using an assumed name. He told his attorney that the outstanding warrant was haunting him. Kuntz said he is hoping for a dismissal.
As of now, Ortiz is under house arrest and must wear an ankle monitor. His bond is set at $50,000.
[image via screengrab/KSAT12]
Follow Colin Kalmbacher on Twitter: @colinkalmbacher
Have a tip we should know? [email protected]