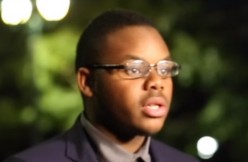 Remember that Florida teen who was arrested for pretending to be a doctor? He was offered a plea deal in a Palm Beach County court on Wednesday.
Prosecutors offered 19-year-old Malachi Love-Robinson—who went by the name "Doctor Love"—three years in prison plus probation, WPTV reports. A court hearing scheduled for June will see if he takes the deal, or keep fighting charges in a prospective July trial.
Love-Robinson didn't comment to reporters after the hearing.
He denied wrongdoing after the story broke in February, even storming out of an interview with Good Morning America. Police say he practiced medicine without a license while running his New Birth, New Life Alternative Medicine and Urgent Care Clinic. Authorities are also pinning him for allegedly forging an 86-year-old patient's checks.
Love-Robinson faced similar accusations before. The Florida Department of Health issued him a cease-and-desist order in October after he allegedly practiced massage therapy without a license. He also allegedly pretended to be a doctor at St. Mary's Medical Center in January 2015, but was reportedly busted when he walked into a pregnant woman's exam room. He told WPBF he was just shadowing the physicians.
[screengrab via Palm Beach Post]
–
Follow Alberto Luperon on Twitter (@Alberto Luperon)
Have a tip we should know? [email protected]