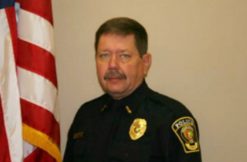 A police chief in Alabama faces scrutiny after a Muslim rights organization called him out for his Facebook activity.
On Friday, the group said that on September 23, Barry Pendergraft of the Gurley Police Department uploaded a picture featuring a box of bullets with the text, "100 more bacon grease covered bullets in the box! This relaxes me so!!" Then on September 27, he made another post, uploading a video of himself loading ammo. That post featured the text, "Happiness is a couple thousand rounds in the ammo box! Bacon grease dipped of course!"
It's religious bigotry, states the Alabama chapter for the Council on American-Islamic Relations (CAIR-Alabama) in a statement published Friday. They say the posts feature "a theme often used by anti-Muslim bigots because they falsely believe Muslims cannot enter heaven if they are shot by such ammunition."
As of Saturday, Pendergraft's Facebook profile doesn't feature the alleged posts. Here is a picture of the one from September 27, as provided by CAIR-Alabama.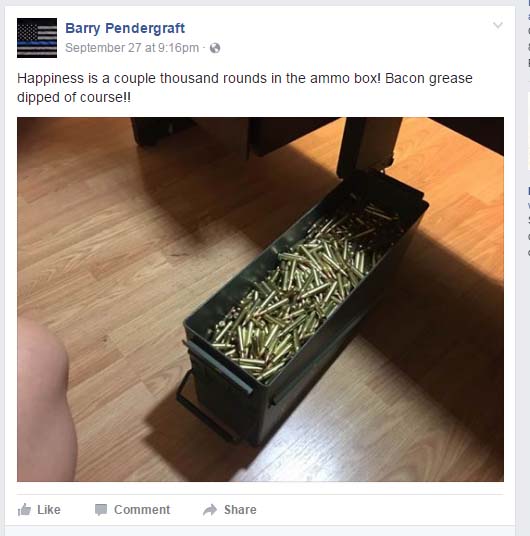 In The Quran, Allah prohibits the eating of pork except in cases of necessity (presumably poverty and the like).
In any case, CAIR-Alabama wants this checked out.
"We call on state and federal authorities to investigate whether the evident anti-Muslim bigotry expressed by Chief Pendergraft is acceptable for someone in his position, who is obligated to provide all citizens, regardless of faith or ethnicity, equal and fair treatment," said Khaula Hadeed.
Gurley Mayor Robert Sentell told AL.com on Friday that he was unware of the Facebook posts, and will look into. We've left a message with the Gurley Police Department and will update when we get a response.
[image via Gurley Police Department]
–
Follow Alberto Luperon on Twitter (@Alberto Luperon)
Have a tip we should know? [email protected]