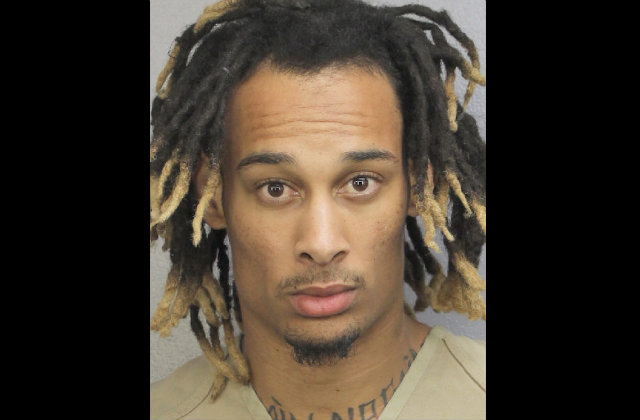 New York Jets wide receive Robby Anderson, 24, was arrested early morning Friday for traffic violations, resisting arrest, and threatening to rape a cop's wife. In an affidavit from the Sunrise Police Department in Florida, one of the arresting officers said he saw Anderson speed 105 mph in a 45 mph zone.
The cop said he saw the suspect drive through two red lights, and fail to stay on a single lane. Anderson got pulled over, but he allegedly didn't put the car in park when he stepped out of his vehicle, so it continued to roll forward. Anderson allegedly physically resisted during the actual arrest. The cop said he "began to brace, tense and refuse" to enter the police cruiser.
It didn't end there. The football player allegedly made some ugly threats. Here's how the officer put it:
While in the back of my patrol vehicle, Robert stated that when he got out he was going to find my wife, fuck her and nut in her eye.
Anderson allegedly made other threats to the cop's family, bragged about how rich he was, and complained the officer was attempting to "ruin his fun."
Charges include fleeing and eluding with lights and sirens active, resisting without violence, and threatening a public servant and/or family member, reckless driving as a first offense, failure to drive in a single lane, counts of disobeying/avoiding a red light, violating a speed limit for the third time, and turning when unsafe or without a signal. Records obtained by Law&Crime show that he remains locked up in Broward County Jail as of Monday afternoon in lieu of a total bond of $7,200. He could not be reached for comment.
The New York Jets did not immediately return a Law&Crime request for comment.
Police timed his arrest for 2:15am. He made some cryptic tweets less than an hour before.
My wife

— Robby Anderson (@youngamazing9) January 19, 2018
Damn dog

— Robby Anderson (@youngamazing9) January 19, 2018
I'm flaming right na man I swear

— Robby Anderson (@youngamazing9) January 19, 2018
Anderson was previously arrested last May over an altercation at a music festival in Miami.
[Mugshot via Broward County Sheriff's Office]
Have a tip we should know? [email protected]