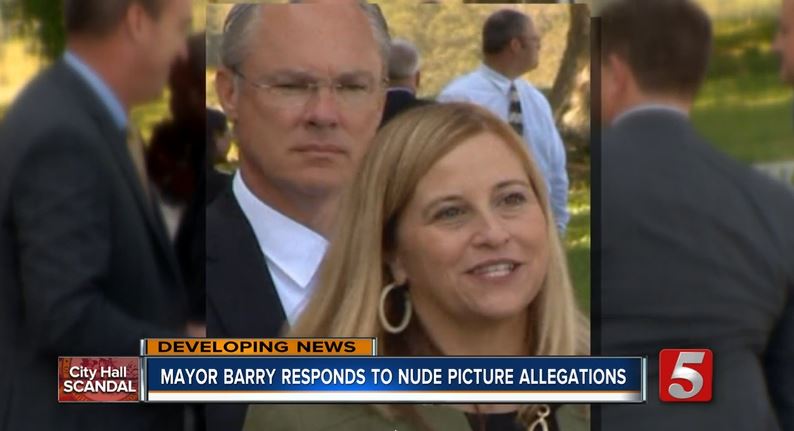 Nashville, Tennessee taxpayers more or less financed a porn shoot if allegations contained in a Tennessee Bureau of Investigation (TBI) affidavit are true. The big problem is that the possible subject of the photos — the city's mayor — didn't consent.
The TBI claims a bodyguard for Nashville Mayor Megan Barry got caught taking cell phone photos of a naked woman and, later, a partially-naked woman on separate days when his time sheets indicate he was working. The bodyguard and the mayor were having an affair, the mayor admitted, according to NBC News, and the TBI is wondering if the naked photos might be of the mayor herself. The affidavits, which were independently reviewed by Law&Crime.com, don't say. However, a purse visible in one of the naked photos is believed to be the same purse seen next to the mayor in the very next photo available on the phone, which happened to be taken the same day. The bodyguard who took the photos was on a work trip with the mayor to Washington, D.C., when one of the naked photos and the purse photo were both taken, the affidavit points out. The first naked photo and the purse photo were taken May 15, 2017, allegedly during the D.C. trip, the affidavit points out, while the other partially-naked photo was taken October 18, 2017.
Despite the affair, the mayor is on the record saying the bodyguard, identified in the affidavits as Nashville Metro Police Sergeant Rob Forrest, had no permission to photograph her naked. The mayor did not confirm the photos were actually of herself.
"While I have not seen the photos in question, if they were of me, they were taken without my knowledge or permission and a complete invasion of my privacy," Barry said.
The naked photos were taken with Forrest's department-issued cell phone. Before TBI agents recovered and searched it, texts messages between Forrest and the mayor were deleted, and TBI agents were unable to recover them. The TBI did recover a log indicating that messages were sent and received, but the actual content of the messages could not be uncovered, the TBI affidavits explain.
The TBI affidavits also point out that Forrest's overtime pay increased 83% in Mayor Barry's administration versus that of several prior administrations. That's a bump from $35,747 in one budget year to $75,462 the budget year after the affair began, according to NBC News. The investigation is ongoing, so it's unclear whether Forrest will basically be accused of getting paid to get laid, but, as local newspaper Tennesean points out, theft of property or official misconduct charges could be forthcoming.
[Image via screen grab from WTVF-TV.]
Have a tip we should know? [email protected]
Aaron Keller - Deputy Editor-in-Chief