A pair of skinny jeans appears to be to blame for the arrest of man returning to New York's John F. Kennedy International Airport from the Dominican Republic last weekend. He is accused of carrying a large quantity of drugs.
A U.S. Customs and Border Protection report obtained obtained by LawNewz says officers were alerted to Juan Carlos Galan Luperon upon his arrival at the regular Customs check at JFK because his pants seemed to be extremely tight and he was exhibiting "numerous signs of nervousness."  Perhaps he was nervous because officers say a subsequent search in a private room revealed he had cocaine literally "busting out of his pants."
"Mr. Luperon was subsequently escorted to a private search room where CBP officers conducted a physical search of his person. During the search, they found packages taped around both of his legs," the CPD report states.
CPD officers released a photo of Luperon after the discovery of the drugs that shows how he allegedly attempted to transport it into the United States.  It was evidently not a wise decision to wear skinny jeans on this particular trip.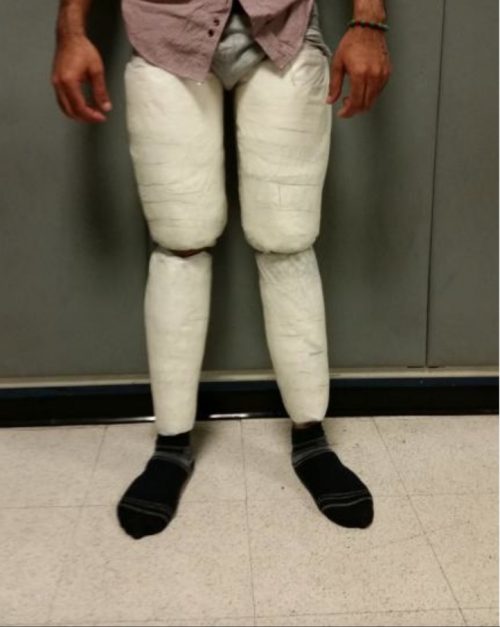 Customs officials then conducted chemical tests on the powder and determined it was cocaine, weighing in at approximately 10 lbs.  Customs officials estimated the street value of the drugs at more than $164,000.
"This seizure is another example of our CBP officers being ever vigilant in protecting the United States from the distribution of these illicit drugs," said Leon Hayward, Acting Director of CBP's New York Field Operations, in a statement obtained by LawNewz.
Luperon was placed in under arrest and surrendered to Homeland Security Investigations where he was booked on federal narcotics trafficking charges.  Ultimately, the U.S. Attorney's Office in the Eastern District of New York will prosecute Luperon.
[image via U.S. Customs and Border Protection]
Have a tip we should know? [email protected]