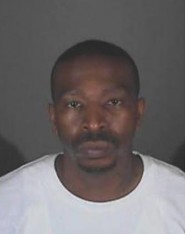 Just when Southern California residents thought they breathe a sigh of relief after all the three of the Orange County Men's Central Jail escapees were captured by the end of the weekend, the area is back on high alert after an inmate awaiting trial for a gang-related murder was mistakenly released from Los Angeles' Inmate Reception Center.
At a press conference on Monday, Los Angeles County Sheriff's Department spokesman, Cmdr. Keith Swensson, said the fugitive suspect, Steven Lawrence Wright, 37, is a known gang member and should be considered armed and dangerous.  Wright had been in custody and held without bail since 2011 while awaiting trial on a murder charge that police allege was a gang-related killing.
According to Cmdr. Swensson, after Wright completed a concurrent five day contempt sentence on Saturday he was transferred to the Inmate Reception Center where he should have been taken back into custody and held without bail on the pending murder charges.  But due to a clerical error in the processing paperwork, sheriff's department employees believed Wright was to be released.
At least three sheriff's department employees missed a court clerk's handwritten note at the bottom of the processing paperwork with the correct information that Wright was still to be held without bail on a pending murder charge, Swensson said.
As a result of the missed information, Wright was released 12:55 p.m. on Saturday, and to make matters worse, authorties did not notice the mistake until 9:30 p.m. on Sunday night.  Once they became aware of the mistake, a taskforce with the Sheriff's Department Major Crimes Bureau and the Pasedena Police Department was implemented to gather information and investigate tips that may lead to Wright's capture.
According to the LA Times, Swensson said of the incident,"This is just one of those things."
[h/t LA Times; image via LA County Sheriff's Dept.]
Have a tip we should know? [email protected]