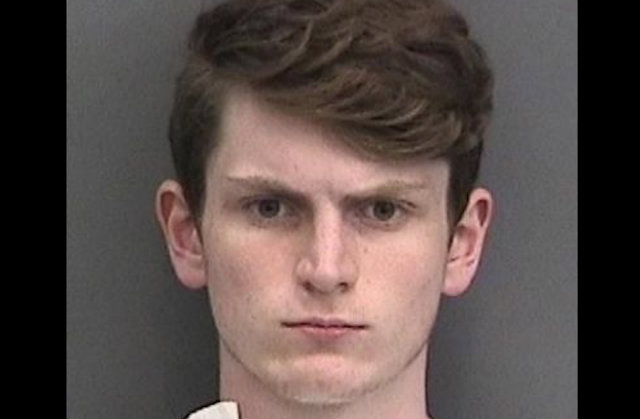 Devon Arthurs used to be a neo-Nazi like his dead roommates, the murder suspect reportedly told police in Tampa, Florida. But he converted to Islam, and allegedly targeted them after they disparaged his new religion. Investigators believe he shot and killed 22-year-old Jeremy Himmelman and 18-year-old Andrew Oneschuk at their apartment on Friday. He "wanted to bring attention to his cause," according to a police report obtained by the Tampa Bay Times.
Cops said the 18-year-old Arthurs then stepped into the nearby Green Planet Smoke Shop, and took an employee and customer hostage using a semiautomatic pistol.
"Why shouldn't I kill you?" he allegedly told the customer after telling him to get on the ground. Arthurs is also accused of also taking a second customer hostage after that person stepped into the store.
He surrendered to police after one person escaped and the officers convinced him to let the others go, cops said.
"I had to do it," he allegedly told them. "This wouldn't have had to happen if your country didn't bomb my country."
That is when Arthurs confessed to killing his roommates back at his apartment using a rifle, cops claim.
He allegedly told officers "he had been privy to neo-Nazi internet sites threatening to kill people, and he had developed a thinking that he should take some of the neo-Nazis with him."
Court records obtained by LawNewz.com show he has been booked on two counts of first-degree murder, two counts of aggravated assault, and three counts of armed kidnapping. "Khalid" is listed as one of his aliases. Arthurs, who remains at Hillsborough County Jail with no bond, could get the death penalty if convicted.
[Mugshot via Hillsborough County Jail]
Have a tip we should know? [email protected]