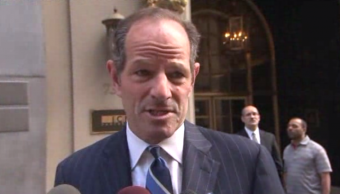 The woman who initially told authorities that disgraced former Gov. Eliot Spitzer choked her at the Plaza Hotel In New York City over the weekend is now apparently backing off the story.
She sent an email to Spitzer after arriving back in Russia, the email was shared with the staff at The New York Times, it said in part:
"I just read the news, I'm so sorry," she said, offering to send a statement to the police "that my report was all fake." She said she would tell the police that she attempted suicide "as I had before."

"You tried to save me," she wrote to Mr. Spitzer, according to the copy of the email provided by Mr. Kaufmann (Spitzer's attorney).
We first reported this story after news of the investigation broke this morning. Police responded to the hotel after receiving a 911 call from Spitzer's 25-year-old female friend. The woman reportedly told hospital staff that Spitzer had assaulted her. However, police noted she gave conflicting reports. No one has been charged.
[h/t The New York Times]
Have a tip we should know? [email protected]
Rachel Stockman - President / On Air Host