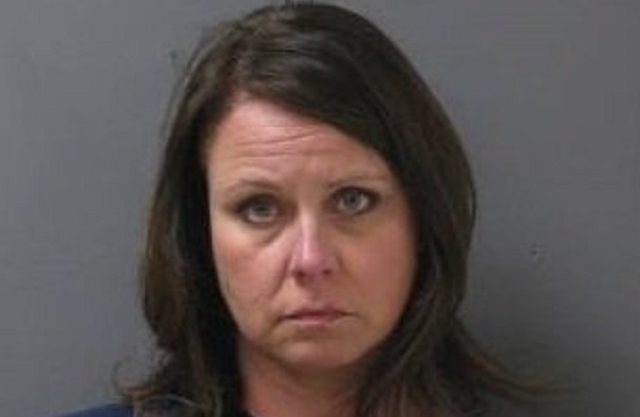 For some time now, teachers in the state of Alabama have been getting in trouble for having sex with students. Who could forget the married couple who were each indicted for sex with students, including at a cemetery? Or the man who allegedly married a student he was sleeping with so that she couldn't testify against him, just to have the case dismissed when officers couldn't find her? The list goes on and on. The law against it was only put on the books in 2010. Finally, however, one alleged sexual predator is standing up for herself and those like her.
Carrie Cabri Witt, a 43-year-old high school teacher facing felony charges for sleeping with two of her students, is challenging the constitutionality of Alabama's statute that prohibits teachers from having sex with students under the age of 19. The objects of her affection were 17 and 18 at the time of their trysts. The age of consent in Alabama is 16. Witt's attorneys are arguing in court on Tuesday that the law, created in 2010, is unconstitutional. Apparently her lawyers believe that the framers intended for this sort of thing to be okay. I guess they're hoping that the judge in Morgan County Circuit Court will help them make Alabama great again.
Robert Tuten and Nick Heatherly,Witt's attorneys, are arguing that the law violates the Equal Protection Clause of the 14th Amendment by treating teachers differently from other people. Prosecutors say that argument doesn't hold water, since the law doesn't single her out for her "by race, alienage, national origin or gender," AL.com reported.
Tuten and Heatherly also claim that the law is inappropriate because it dictates what consenting adults do in private, claiming that Witt did not do anything inappropriate when she slept with her students. "She exercised no power over them. She never tried to use her position of authority over them," they said in a court filing. Of course, just because she didn't actively try to abuse her power doesn't mean that the students would have slept with her if she didn't grade their papers and have control over their chances of getting into colleges.
I thought it was bad enough that sex between teachers and students was so rampant. The idea that one of these teachers now wants to change the law to make it permissible is disgusting. At least I'm probably not alone in thinking this. Last year a state lawmaker proposed a bill to train teachers so they know this sort of behavior is frowned upon. Of course, he ended up pulling it due to pressure against it, so even though a similar bill was introduced last month, who knows if it'll go anywhere.
This is an opinion piece. The views expressed in this article are those of just the author.