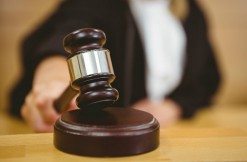 If you've been on this site long enough, you know that being a judge is stressful. Defendants sometimes act out. There's all sorts of yelling, body fluids, and twerking. So yeah, a judge is going to curse from time to time.
"You're a bit of c—t yourself," U.K. Judge Patricia Lynch told a defendant on Tuesday, according to The Daily Mail. To be fair, he called her the C-word first.
See, 50-year-old John Hennigan was being sentenced for yet another crime. This guy has long record, with convictions for 47 charges.
"Go f—k yourself," Hennigan reportedly said after the c-laden exchange.
"You too," said Lynch.
Then Hennigan reportedly hit a glass panel, did the Nazi salute, shouted "Sieg Heil' twice, and sang "Jews, gas them all." What a peach.
Lynch was pretty calm during all this. The Daily Mail used words like "unperturbed" and "measured" to describe her behavior.
"We are all really impressed," she said, then turned to the guards. "Take him down."
The exchange got her a bit of love on social media.
@geraghtyracing @theJeremyVine think judge Patrica lynch might have a bit of Irish blood in her.spirited lady✊

— jpbeatty (@john10775628) August 11, 2016
@mrjamesob judge #PatricaLynch was in the right, I agree with all the comments in #Metro p16 all on the side of the judge @LBC

— Goo Bric (@goobric) August 12, 2016
Judge Patricia Lynch, a nation salutes you. https://t.co/XEMkPbE4TR

— Greg Stone (@gm_stone) August 10, 2016
Lynch, who didn't respond to The Daily Mail's request for comment, might be in trouble herself, though. They report that the Judicial Conduct Investigations Office is investigating her for what she said. There's apparently been complaints.
Hannigan will serve 18-months behind bars after pleading guilty to violating an anti-social behavior order. In April, he made racist comments to a black woman and her children. It's the ninth time he breached the order.
As the Crown Prosecution Service, the agency in charge of prosecution in England and Wales, puts it:
[An anti-social behavior order] contains conditions prohibiting an individual from carrying out specific anti-social acts or (for example) from entering defined areas. The orders are not criminal sanctions and are not intended to punish the individual. They are designed to be preventative, not punitive.
[image via wavebreakmedia and Shutterstock]
–
Follow Alberto Luperon on Twitter (@Alberto Luperon)
Have a tip we should know? [email protected]