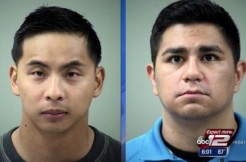 The Bexar County District Attorney's Office said two ex-cops for the San Antonio Police Department started a fake undercover operation to trick women into sex. A Texas grand jury agreed. Emmanuel Galindo and Alejandro Chapa were indicted on Tuesday.
"Our allegation is that they misused their authority and position to coerce, basically fraudulently, to bring these women into this sexual escapade in this situation," DA Nicholas LaHood said, according to KSAT.
According to the statement, the scam reached law enforcement's radar in June 2015, when a woman said she was sexually assaulted by an officer. She said she had been lured into a purported undercover operation which promised $5000 a day. But she had to test to qualify for the position. Investigators found 25 other women who maintained similar allegations.
Lt. Matt Malone of the Live Oak Police Department told KSAT that tests included drinking, or answering questions like "Are you comfortable disrobing in front of men?"
LaHood said at least five women had sexual contact with Galindo or Chapa.
Victims said they were desperate for cash, and believed the undercover operation was real, according to the statement.
Galindo and Chapa were arrested in September, and resigned soon after. A third officer, Aaron Alford, was arrested too, but charges are still pending in this ongoing investigation. The SAPD told KSAT he was put on unpaid indefinite suspension in January.
Galindo faces 5 counts of sexual assault, 6 of compelling prostitution, and 12 of official oppression. Chapa faces 4 counts of sexual assault, 4 counts of compelling prostitution, and 8 of official oppression. As second-degree felonies, sexual assault and compelling prostitution carry the beefier sentences: up to 20 years in prison, and a $10,000 fine. Official oppression brings a potential year-long sentence, and $4,000 fine.
[mugshots of Galindo and Chapa via Bexar County / KSAT]
–
Follow Alberto Luperon on Twitter (@Alberto Luperon)
Have a tip we should know? [email protected]