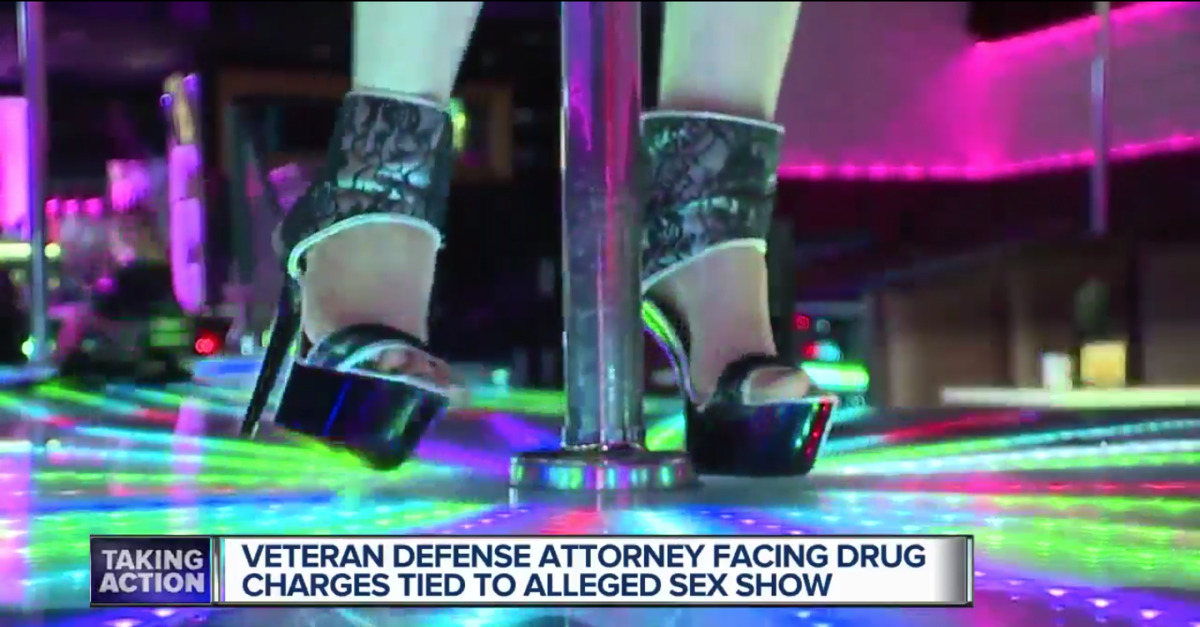 A long-serving Detroit area attorney has been accused of hosting a drug-fueled sex romp at his home in Michigan in early August. But Don Cherry's neighbors say this is nothing new.
According to a police report filed on August 3, a young woman was running down the street half-naked when authorities arrived to deal with multiple complaints. In that report, one 21-year-old woman told police that she and a friend had ventured to the Gross Pointe Farms home from a nearby township in order to perform a sex show.
Both women also claimed they were in the suburban home to perform a sex act on 75-year-old Cherry and that they were paid $50 and $60, respectively, for their services. The report also notes that Cherry offered each woman both crack and powdered cocaine and told each woman to "take what you want."
Police arrived after an apparent dispute over money. And once they did, the accusations came from all comers. The woman running down the street was alleged by Cherry to have taken some of his credit and/or debit cards. Those cards were eventually tossed to the ground as the woman was intercepted by law enforcement, according to the police report.
The report also notes that the running woman had cuts on her collarbones and arms–allegedly sustained after Cherry grabbed her and attempted to prevent her departure once she became uncomfortable and attempted to leave. Police were initially going to charge Cherry with assault and the woman with larceny. That didn't happen.
Ultimately, both the women and Cherry appear to have worked out their differences and declined to press charges against one another.
Prior to that resolution, however, police searched Cherry's home and claimed to have found both aforementioned forms of cocaine–as well as crack pipes and other drugs. The police report notes one of the women describing the drugs as "large amounts of prescription drugs and cocaine…individually packaged at various locations throughout the residence."
Cherry's neighbors say they've been through this entire scenario–and worse–before, never with any charges resulting from the defense attorney's alleged drug-infused sexcapades.
Phillip Wullschlager lives next door. In comments to the local NBC affiliate, he  described the typical nature of Cherry's alleged parties. He said, "Obviously, there's drugs involved, prostitutes involved, not the kind of thing you want in a neighborhood like this."
Wullschlager also commented on the seemingly lax approach to Cherry's apparent penchant for casual encounters, recreational drugs and working women. He said, "It's very upsetting. It never seems to come to any conclusion…At least two [other times] that had the police here and had him arrested and carted away. We have never understood why he was not prosecuted."
For their part, the Gross Pointe Farms Police Department says they've repeatedly referred similar charges to Wayne County prosecutors–but that each time the Wayne County District Attorney's Office has declined to move forward with a case against Cherry.
This time might be different. Cherry now faces charges of possession of a controlled substance and, if convicted, could lose his law license. A probable cause hearing in the case is scheduled for September 26.
[image via screengrab]
Follow Colin Kalmbacher on Twitter: @colinkalmbacher
Have a tip we should know? [email protected]