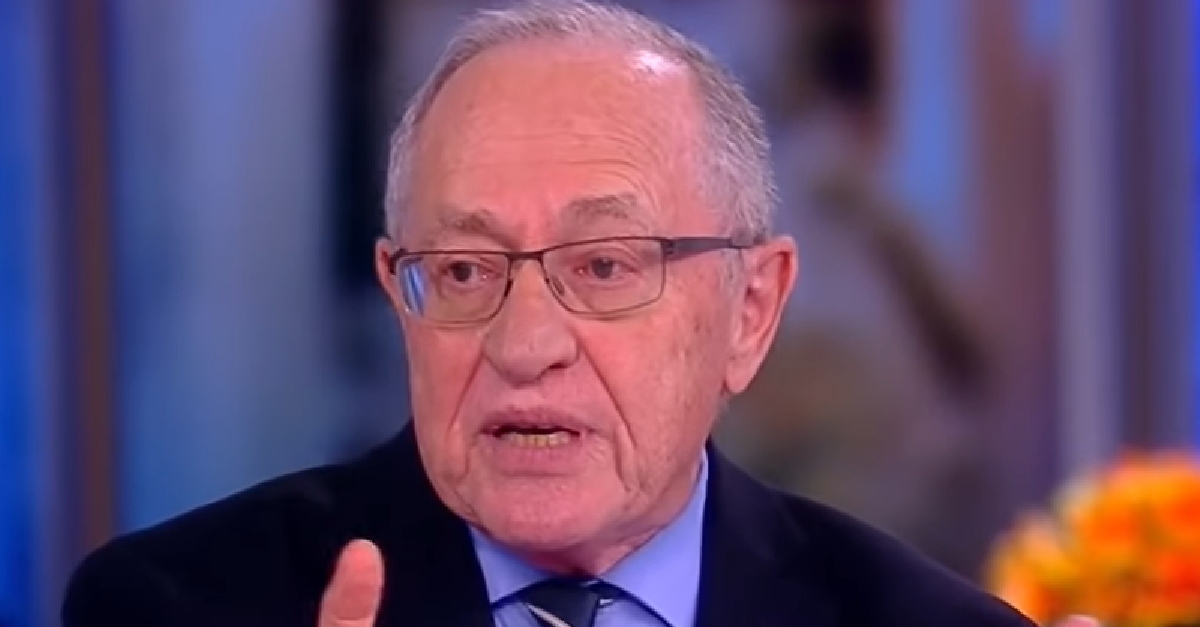 Harvard Law Professor Alan Dershowitz threatened to sue the women who alleged that they were forced to have sex with him by billionaire pedophile Jeffrey Epstein. But first, he said, they had to make their claims in public, and not in a litigation setting.
I challenge my false accusers to stop hiding behind the litigation privilege and accuse me in public so I can sue them and prove they are lying for money.

— Alan Dershowitz (@AlanDersh) December 23, 2018
Victoria Roberts and Sarah Ransome separately claimed that Epstein forced them to have sex with Dershowitz. Both women sued the disgraced billionaire, both their complaints resulted in settlements, and Dershowitz categorically denied both allegations.
Roberts' claim surfaced first, and recently got national attention after the Miami Herald examined how federal prosecutors and law enforcement gave Epstein easy treatment.
In a December 4 interview on the Law&Crime Network, Dershowitz called Roberts a liar, and said she made her claim behind the protection of litigation. He told host Brian Ross to contact her, and see if she repeated her allegations.
"And if she does, I will be in court the next day suing her for defamation and I will win the case 'cause I can prove conclusively that she made up the whole story from top to bottom," he said.
He said he could prove the story was made up, and he he could prove his whereabouts when Roberts claimed they had had relations.
Dershowitz also flatly denied a Ransome's claim amid her lawsuit being settled this week. He told The New York Post he never met her.
An attorney for Roberts and Ransome did not immediately respond to a Law&Crime request for comment.
Dershowitz is threatening to sue a whole lot of people over this. News of the new settlement got Claude Taylor, a former staffer in the Clinton White House who runs an anti-Trump PAC, to flatout claim the professor preyed on young girls.
I recall @AlanDersh last year told me I should go ahead and accuse him so he could sue me for defamation. I accuse @AlanDersh of knowingly and repeatedly having sex with minors associated with Jeffrey Epstein. Your move, Alan. #Discovery https://t.co/aPfIH4hcS3

— Claude Taylor (@TrueFactsStated) December 21, 2018
In response, Dershowitz demanded Taylor's information and address so he could sue him.
He also promised to sue author Quinn Cummings .
Send me an address where I can serve you.

— Alan Dershowitz (@AlanDersh) December 23, 2018
Taylor and his attorney released a statement on Sunday, saying they were ready for a lawsuit. Cummings did not immediately respond to a Law&Crime request for comment.
[Screengrab via The View]
Have a tip we should know? [email protected]