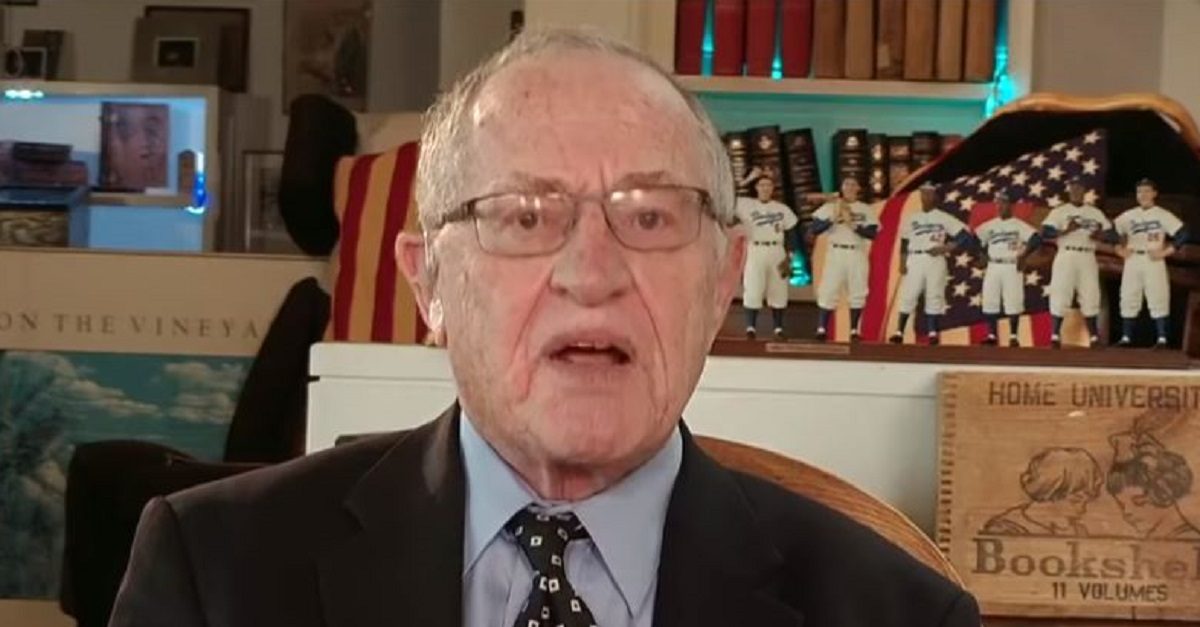 Harvard Law Professor Alan Dershowitz is planning a defamation lawsuit against a Democratic Party activist who publicly accused him of having sex with underage girls.
Claude Taylor is a travel photographer and former director of volunteers in the Bill Clinton White House. He also runs Mad Dog PAC, a vocal anti-Donald Trump organization which specializes in posting provocative billboards and balloons depicting the 45th president as a large, adult baby. During the 2018 midterm election cycle, Taylor's PAC raised and spent over $800,000 on efforts criticizing conservatives, according to OpenSecrets.
As of late, however, Taylor has turned some of his attention and ire toward Dershowitz. Taylor's recent focus on Dershowitz is based on allegations that the nationally-renowned defense lawyer took part in an alleged sex trafficking operation run by billionaire pedophile Jeffrey Epstein. Epstein was accused of trafficking more than 40 mostly underage girls for sex with the rich and powerful. He ultimately pleaded guilty to one count of soliciting a minor for prostitution and was sentenced to 13 months in a Florida prison.
At least two of those girls now claim that Dershowitz had sex with them when they were underage. Dershowitz has repeatedly denied the claims and called one of his accusers, Virginia Roberts, a "certified, complete, total liar" during a recent appearance on the Law&Crime Network.
Earlier this week, a second woman leveled similar accusations against Dershowitz. Sarah Ransome said that Epstein forced her to have with Dershowitz, the billionaire's former lawyer. On Friday, Ransome settled a lawsuit against Epstein for an undisclosed amount of money. After this settlement was reported, Taylor pounced on the news.
On Friday at 7:14 a.m. he tweeted:
I recall [Alan Dershowitz] last year told me I should go ahead and accuse him so he could sue me for defamation. I accuse [Alan Dershowitz] of knowingly and repeatedly having sex with minors associated with Jeffrey Epstein. Your move, Alan. #Discovery
I recall @AlanDersh last year told me I should go ahead and accuse him so he could sue me for defamation. I accuse @AlanDersh of knowingly and repeatedly having sex with minors associated with Jeffrey Epstein. Your move, Alan. #Discovery https://t.co/aPfIH4hcS3

— Claude Taylor (@TrueFactsStated) December 21, 2018
Dershowitz responded to the accusation on Twitter.
"Privately message me your contact information/address so I can immediately file suit against you," Dershowitz tweeted at Tayloron Saturday morning. "I accept your challenge."
In a later tweet, Dershowitz needled his critics and accusers.
"I would welcome a trial or investigation of my truthful denials under oath and their perjury," he wrote. "Either they or I are are committing a crime. It's not me."
Law&Crime reached out to Taylor who reiterated his position via email:
Mr. Dershowitz has been accused of child rape and participating in sex trafficking of minors with Jeffery Epstein in affidavits filed in Court, signed by the girls involved.  My statements are backed by excellent reporting from the Miami Herald and the Harvard Crimson.  If Mr. Dershowitz files suit, we look forward to discovery where we can establish the truth. Dershowitz and Epstein have operated under cover of sealed files and non-disclosure agreements for far too long.
Law&Crime also reached out to Dershowitz and asked him to comment on the ongoing Twitter spat and his lawsuit threat.
"As soon as he sends me his address, I will file suit against him for defamation," he said via email. "I have never had sex with an underage person. He has maliciously defamed me and I will prove that in court."
Taylor, for his part, appears unmoved by Dershowitz's threat of litigation.
"Mr. Taylor has been sued before by public figures who hope to intimidate him," said attorney Dirk Schwenk in a statement provided to Law&Crime. Schwenk previously served as Taylor's legal counsel during a prior libel suit.
"He is well aware of his rights under the First Amendment, and he is not afraid to assert them in a court of law," Taylor's attorney noted. "He will not be silenced."
[image via screengrab/Fox News]
Editor's note: this story has been amended post-publication to reflect statements received by Claude Taylor and his attorney.
Have a tip we should know? [email protected]