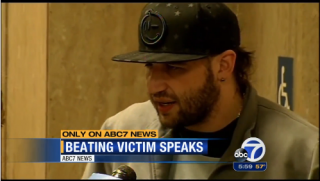 Stanislav Petrov, the California man who was allegedly assaulted so viciously by police it drew comparisons to the infamous beating of Rodney King, is speaking out through his attorney for the first time since the incident occurred, now with shocking new allegations about the officers who brutalized him.
The Alameda County Sheriff's Office has placed two deputies on leave in connection with the November beating. They also put Deputy Shawn Osbourne, on leave for allegedly bribing witnesses of the beating with Petrov's gold chain in order to silence them.
Michael Haddad, the attorney for Petrov, said deputies approached a homeless man in a San Francisco alley and gave him Petrov's large gold chain with a medallion, cash and cigarettes, according to The Oakland Tribune. "I think it was implied that he wanted them to be quiet," Haddad said. The attorney claims to have spoken with the homeless onlookers, which could be bad news for the officers.
The San Francisco District Attorney's Office is now investigating the actions of Sheriff's Deputies Luis Santa Maria and Paul Weiber, who are allegedly responsible for the excessive beating and Osbourne, for the bribery allegation.
Just in: Alameda Co Sheriff's Office has confirmed to @abc7newsBayArea Deputy Shawn Osburne is on admin leave in connection w/alleged bribe

— Melanie Woodrow (@MelanieWoodrow) March 30, 2016
Sheriff's Office says it has pic of Petrov's gold necklace on ground after beating but necklace was not booked in evidence @abc7newsBayArea

— Melanie Woodrow (@MelanieWoodrow) March 30, 2016
Sgt. J.D. Nelson, a spokesman for Alameda County Sheriff's Office, said that there is an ongoing  investigation. "They are no better than the criminals they arrested, if these allegations are true," Nelson said.
On Tuesday, Sheriff Greg Ahern announced he would take preventive measures to ensure what happened to Petrov does not happen again. "It's incumbent on me to make sure the culture of this agency is above reproach," Ahrean said. The Sheriff will require deputies to have their body cameras activated at all times.
The San Francisco District Attorney released video that allegedly shows deputies repeatedly hitting Petrov as he screams in anguish. Petrov had broken bones in both hands and severe bruising to the head and body, according to Haddad.
[h/t ABC7News]
[Screengrab via ABC7News]
Have a tip we should know? [email protected]