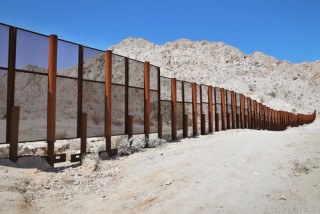 Four Guatemalan men, in the United States illegally, are being charged by authorities following the rape of a Massachusetts woman and the brutal beating of her boyfriend.
The unidentified couple were walking on Claflin Street in Framingham, Ma. when they were allegedly approached by the four men, one of whom offered them a beer, while another took out a condom, according to The Metro West Daily News. The men physically detained the boyfriend and grabbed the woman.
"They began carrying her against her will," said prosecutor Susan Harris. "She said she tried to stop them and had her feet down, but one of them picked her legs up and they carried her into an apartment." According to officials, Ariel Diaz said to the boyfriend, 'I'm going to carve you up and rape your girl," before the boyfriend was able to smash Diaz with a beer bottle and escape the apartment with his girlfriend.
Marlon Josue Jarquin-Felipe, 27, was arrested along with three brothers—Elmer Diaz, 19, Ariel Diaz, 24, Adan Diaz, 32. Federal immigration authorities have requested detainers on the four men. Detainers may be filed by a criminal justice agency asking an institution where an individual is being held or incarcerated either to hold the prisoner for the agency or to notify the agency when release of the prisoner is imminent.
The vicious attack is not the first run-in with the law for either Ariel or Adan Diaz. In February, just weeks ago, Adan was arrested for drunk driving. Two months before, younger brother Ariel was arrested for the same. Ariel had been convicted of drunk-driving once before in 2014. The middle Diaz brother was sent back to Guatemala but re-entered the country, Immigration and Customs Enforcement (ICE) spokesman Shawn Neudauer told The Boston Herald. Jarquin-Felipe was also sent back to Guatemala in 2014, but managed to cross the border and reconvene with the Diaz brothers.
The four men are now facing an abundance of charges to which they have each pleaded not guilty: Elmer Diaz is charged with rape, kidnapping, threatening to commit a crime and assault with a dangerous weapon; Ariel Diaz is charged with unarmed robbery, assault and battery with a dangerous weapon, indecent assault and battery, kidnapping and witness intimidation; Adan Diaz and Jarquin-Felipe were charged with indecent assault and battery and kidnapping.
[h/t FoxNews]
Have a tip we should know? [email protected]